'You've got a friend in me': Tom Hanks writes letter to bullied boy named Corona
Tom Hanks has sent a letter and a Corona brand typewriter to an Australian boy who wrote to him telling him he was being bullied because of his name – Corona.
Corona De Vries, from the Gold Coast in Queensland state, wrote to the Hollywood star and his actress wife, Rita.
The couple were in Australia last month when they were confirmed as having COVID-19.
.@tomhanks has written a heart-felt letter to a young Helensvale boy named Corona. The 8-year-old was being bullied at school and decided to write to the Hollywood superstar and his wife @RitaWilson, after they were diagnosed with Coronavirus. https://t.co/6l2nzFJNn5#7NEWSpic.twitter.com/H02WF2dRCx

— 7NEWS Gold Coast (@7NewsGoldCoast) April 23, 2020
The eight-year-old schoolboy wrote to Hanks, saying: "I heard on the news you and your wife had caught the coronavirus. Are you ok?
"I love my name but at school people call me the coronavirus.
"I get very sad and angry when people call me this."
Corona sent the letter to the Forrest Gump star earlier this month, and received Hanks' response this week.
More from Covid-19
Coronavirus: Transport for London furloughs 7,000 staff as fare revenue plunges 90%

Coronavirus lockdown: UK sees big drop in man-made seismic noise

Coronavirus: Dettol maker says disinfectant should not be ingested 'under any circumstances'

Coronavirus: Online applications for COVID-19 tests temporarily closed due to huge demand

Peter Kay makes TV comeback with a Solero, sunglasses and a smile

Coronavirus: Boris Johnson 'on very good form' but no decision yet on Number 10 return
View this post on Instagram

Hey folks. Good News: One week after testing Positive, in self-isolation, the symptoms are much the same. No fever but the blahs. Folding the laundry and doing the dishes leads to a nap on the couch. Bad news: My wife @ritawilson has won 6 straight hands of Gin Rummy and leads by 201 points. But I have learned not to spread my Vegemite so thick. I travelled here with a typewriter, one I used to love. We are all in this together. Flatten the curve. Hanx

A post shared by Tom Hanks (@tomhanks) on Mar 17, 2020 at 2:19pm PDT
The actor replied in a letter typed on a Corona typewriter, saying: "Your letter made my wife and I feel so wonderful!
"Thank you for being such a good friend. Friends make their friends feel good when they are down.
"I saw you on TV, even though I was back in the USA already – and all healthy.
"Even though I was no longer sick, getting your letter made me feel even better."
:: Listen to Divided States on Apple podcasts, Google Podcasts, Spotify, and Spreaker
The two-time Oscar winner said: "You know, you are the only person I've ever known to have the name Corona – like the ring around the sun, a crown.
"I thought this typewriter would suit you. Ask a grown up how it works. And use it to write me back."
The Toy Story star wrote with a pen at the end: "P.S. You got a friend in ME!"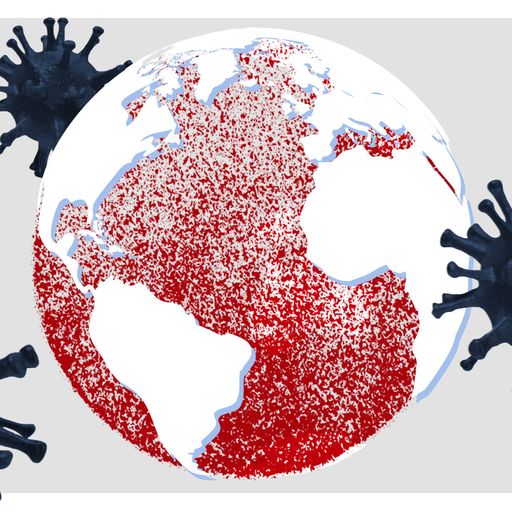 Coronavirus: The infection numbers in real time
Hanks and Wilson, both 63, tested positive for COVID-19 last month.
They went into self-quarantine at their home in Australia after receiving treatment at the Gold Coast University Hospital.
Hanks had been in Australia to work on Baz Luhrmann's Elvis Presley biopic, but filming was shut down after he and his wife were diagnosed.
The pair kept fans updated on their recovery on social media.