White House condemns 'appalling' violence and calls on America to 'unite'
The violence at the US Capitol was "appalling" and "reprehensible", the White House press secretary has said.
During a short statement lasting less than two minutes, Kayleigh McEnany said: "Those who violently besieged our Capitol are the opposite of everything this administration stands for."
The president himself did not appear at the briefing and Ms McEnany did not take questions from reporters.
She said the White House condemns the violence "in the strongest possible terms", saying it was "unacceptable".
She called on America to "unite, to come together" and added: "We are one American people under God."
Please use Chrome browser for a more accessible video player
Trump condemned after Capitol riot
America's president-elect also condemned Donald Trump's behaviour and called those who stormed the US Capitol on Wednesday "domestic terrorists".
Joe Biden said the astonishing scenes were an "assault on our liberty".
More from Donald Trump
US Capitol: Nancy Pelosi calls for Donald Trump's immediate removal after 'seditious act'

It is time for global action to guard democracies against weaponised lies

Donald Trump's Facebook and Instagram accounts blocked 'indefinitely', Zuckerberg says

Donald Trump: The Republicans still promoting president's claims of election fraud

US Capitol: Q-Anon, Confederate flag man, and Baked Alaska – here are the people who stormed the building

Which members of Donald Trump's team have resigned after violence in Washington?
Of the demonstrators, he said: "Don't dare call them protesters – they were a riotous mob, insurrectionists."
It comes after House Speaker Nancy Pelosi demanded Donald Trump's removal from office, saying he had "incited an armed insurrection against America".
Ms Pelosi joined those calling on the cabinet to invoke the 25th amendment to force Mr Trump from office.
Please use Chrome browser for a more accessible video player
Pelosi calls for Trump's removal from office
Democrats and some Republicans want Mr Trump removed before his term ends on January 20 with Mr Biden's inauguration.
The 25th amendment allows for the vice president and a majority of the cabinet to declare the president unfit for office. The vice president then becomes acting president.
Republican congressman Adam Kinzinger and top Democrat Chuck Schumer have also called for the 25th amendment to be invoked.
In another blow to Mr Trump, transportation secretary Elaine Chao said she is resigning, becoming the highest ranking member of the administration to quit in protest after the insurrection at the Capitol.
Ms Chao, who is married to Senate Republican leader Mitch McConnell, said the violent attack on the Capitol "has deeply troubled me in a way that I simply cannot set aside".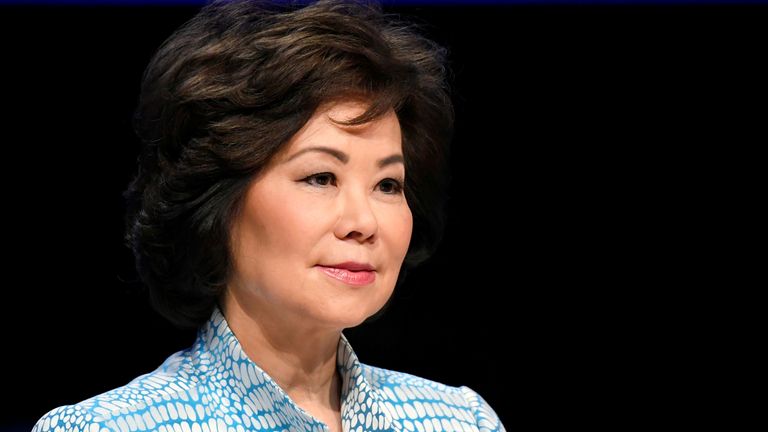 Four people died when the violent mob of Trump supporters stormed the Capitol, including US Air Force veteran Ashli Babbitt.
Mr Trump had encouraged his supporters to march on the Capitol to protest politicians' actions, and he later appeared to excuse the violent occupation by the mob.
"These are the things and events that happen when a sacred landslide election victory is so unceremoniously & viciously stripped away from great patriots who have been badly & unfairly treated for so long," Mr Trump wrote in a message that was later deleted by Twitter.
He added: "Go home with love & in peace. Remember this day forever!"