What are the charges Donald Trump faces?
Donald Trump has become the first current or former US president to be charged with a crime.
The 76-year-old has pleaded not guilty to 34 felony counts of falsifying business records and conspiracy for his alleged role in hush money payments to two women towards the end of his 2016 presidential campaign.
A felony is usually defined as a crime punishable by a year or more in prison.
Manhattan District Attorney Alvin Bragg announced Trump's indictment on Tuesday at Manhattan Criminal Courthouse.
The indictment alleged that during the election, Trump and others employed a "catch and kill" scheme to identify, purchase, and bury negative information about him and boost his electoral prospects.
Latest:

Trump court hearing updates and reaction
The former president then went to great lengths to hide this conduct, prosecutors say, with dozens of false entries in business records to conceal criminal activity, including attempts to violate state and federal election laws.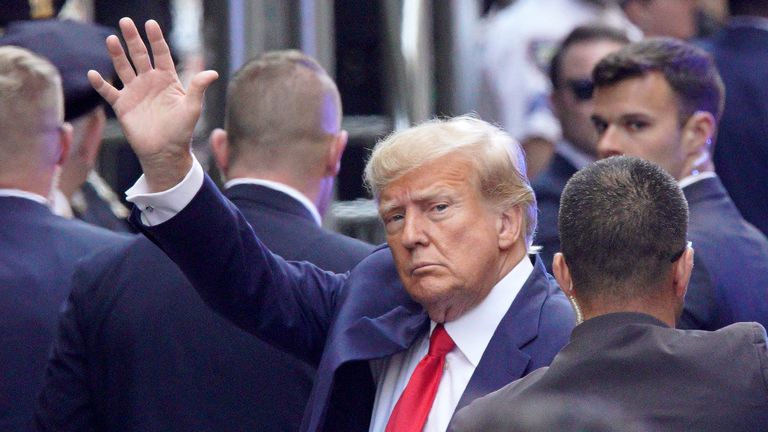 Three hush money payments
The charges accuse Trump of three different instances of making hush money payments to cover up alleged affairs.
From August 2015 to December 2017, Trump allegedly orchestrated his "catch and kill" scheme through a series of payments that he then concealed through months of false business entries.
In one instance, American Media Inc allegedly paid $30,000 (£24,000) to a former Trump Tower doorman, who claimed to have a story about a child Trump had out of wedlock.
In the second instance, AMI allegedly paid $150,000 (£120,000) to a woman who alleged she had a sexual relationship with Trump. When Trump directed a lawyer to reimburse AMI in cash, a special counsel indicated to him that the payment should be made via a shell company and not by cash, according to the charges. AMI ultimately declined to accept reimbursement.
In the third instance, 12 days before the presidential general election Trump's special counsel allegedly wired $130,000 (£104,000) to a lawyer for an adult film actress.
After winning the election, Trump reimbursed the special counsel through a series of monthly cheques, first from the Donald J Trump Revocable Trust and later from his bank account, according to prosecutors.
In total, 11 cheques were allegedly issued for phoney purposes.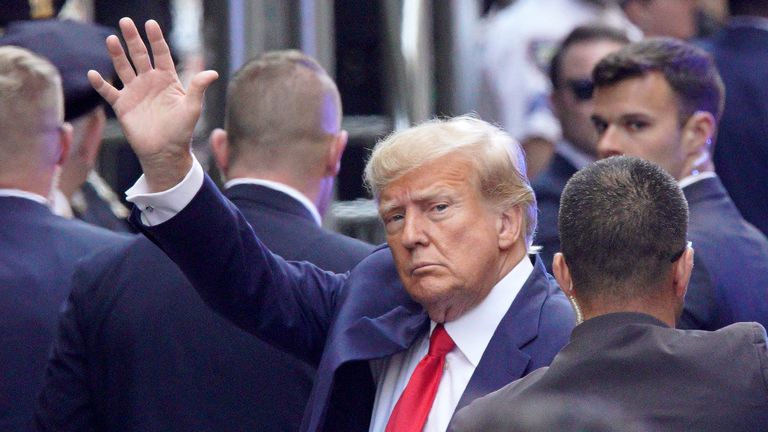 Influencing the 2016 presidential election
From August 2015 to December 2017, Trump allegedly orchestrated a scheme with others to influence the 2016 presidential election by identifying and purchasing negative information about him to suppress its publication and benefit electoral prospects.
Each count concerns one of the following – an entry in the Trump Revocable Trust's Detail General Ledger, a cheque and cheque stub to Michael Cohen, and invoices from Cohen that are maintained in Trump Organisation records.
Although the larger catch-and-kill scheme and the Karen McDougal payment are described in the indictment, the actual charges appear to concern only those records intended to hide the payments to Michael Cohen for the Stormy Daniels settlement.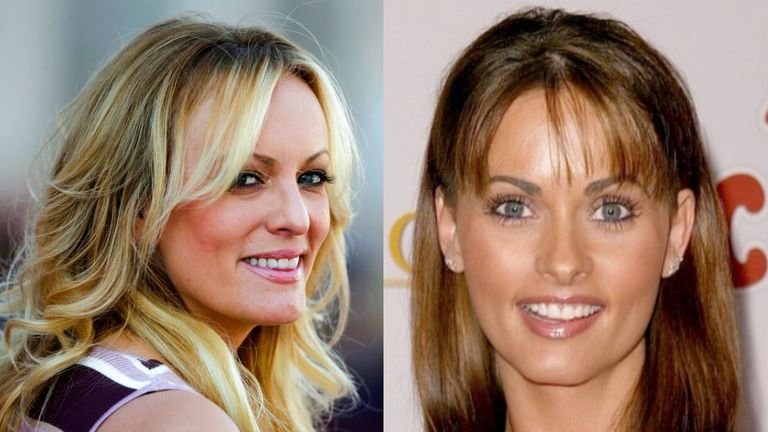 'Trail of money and lies'
After announcing the indictment, District Attorney Bragg said: "The People of the State of New York allege that Donald J Trump repeatedly and fraudulently falsified New York business records to conceal crimes that hid damaging information from the voting public during the 2016 presidential election."
He added that Manhattan is home to the country's "most significant business market".
"We cannot allow New York businesses to manipulate their records to cover up criminal conduct. As the Statement of Facts describes, the trail of money and lies exposes a pattern that, the people allege, violates one of New York's basic and fundamental business laws.
"As this office has done time and time again, we today uphold our solemn responsibility to ensure that everyone stands equal before the law," he said.
Please use Chrome browser for a more accessible video player
1:48
'Trump repeatedly made false statements'
Taken together, the charges carry a maximum prison sentence of 136 years under New York law, though if Trump was convicted it would almost certainly be far less than that.
While falsifying business records in New York on its own is a misdemeanour punishable by no more than one year in prison, it is elevated to a felony punishable by up to four years in prison when done to advance or conceal another crime.