Virus-hit markets stage fightback on hopes of $850bn US stimulus
Stock markets have staged a fightback despite a gradual shutdown in the global economy as coronavirus takes its toll on life as we know it.
Market analysts pegged tentative gains across Europe and the US to hopes of a $850bn stimulus programme for the US economy and further support for financial markets from the country's central bank.
News of £330bn in government-backed loans for UK firms and a pledge of help for airlines, as part of a bolstered package of support from Chancellor Rishi Sunak, came too late in the day for London's blue-chip FTSE 100 index.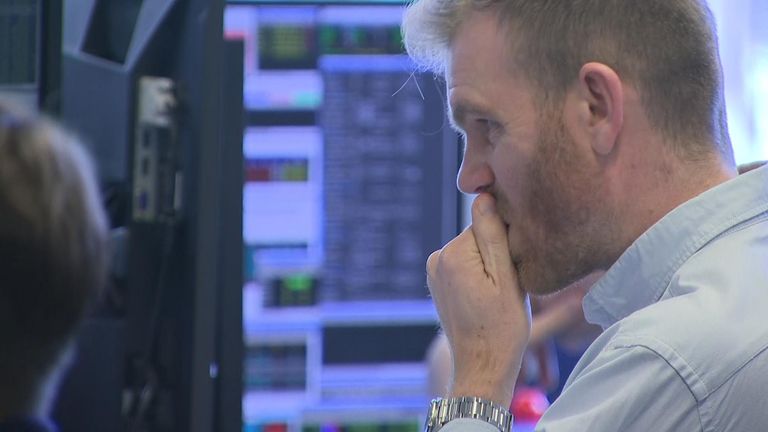 The globally-focused market closed 2.8% higher at 5,294 after details of the US proposals, also aimed at limiting the financial impact of COVID-19, became available.
The damage from the outbreak is growing daily.
Among the companies reporting disruption in the UK on Tuesday was Nissan, which said it was ceasing production at its Sunderland plant, while Laura Ashley became the first retailer to stand on the brink of collapse.
Gatwick Airport said it had cut 200 jobs, with bosses taking a pay cut, and was limiting operations as airline services grind to a halt.
More from Covid-19
Coronavirus: Fears of a recession as government pledges help for the economy

Coronavirus: Mother's shock as nine-month-old son contracts COVID-19

Coronavirus: Shoppers defy PM to visit cafes, get haircuts and buy DIY goods

Coronavirus: Chancellor's £330bn package will save some – but it's not the 'nuclear option'

Coronavirus concerts: Stars livestream songs from home to entertain locked-down fans

Coronavirus: Nazanin Zaghari-Ratcliffe temporarily released from Iranian prison amid outbreak fears
Catering firm Compass Group, which has contracts across the world, saw its shares dive 15% when it forecast half-yearly operating profit would be well below expectations.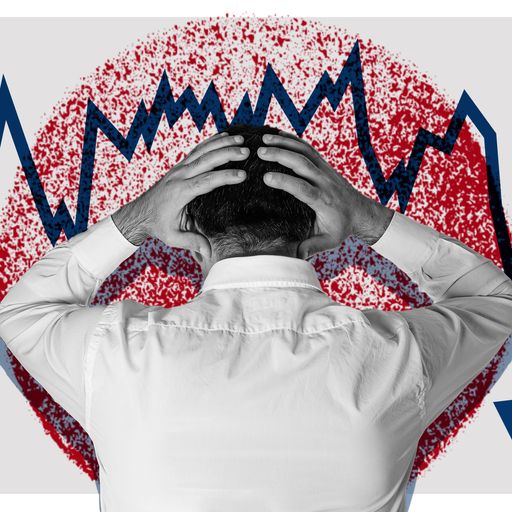 Should markets be closed until coronavirus eases?
The steady feed of negative news prompted the Lloyd's of London insurance market to ask its members for estimates of their potential current and final losses from coronavirus globally.
On Wall Street, the Dow Jones Industrial Average closed just over 5%, or 1,048 points higher, after its biggest daily points loss on record in the previous session.
Gains accelerated when it emerged the US stimulus package, proposed by Donald Trump's administration, was being put to political leaders on Capitol Hill.
It was said to include the federal government writing cheques for American households, on a means-tested basis, $50bn in support for airlines and additional help for plane-maker Boeing, already reeling from the 737 MAX crisis.
The number of tax payments eligible to be deferred had already been raised, treasury secretary Steven Mnuchin told reporters.
He added that he supported financial markets remaining open during the crisis but raised the prospect of trading hours being restricted in the New York Stock Exchange to minimise infection risks.
At a news conference, Donald Trump said the package of measures being considered would be "big" and "bold".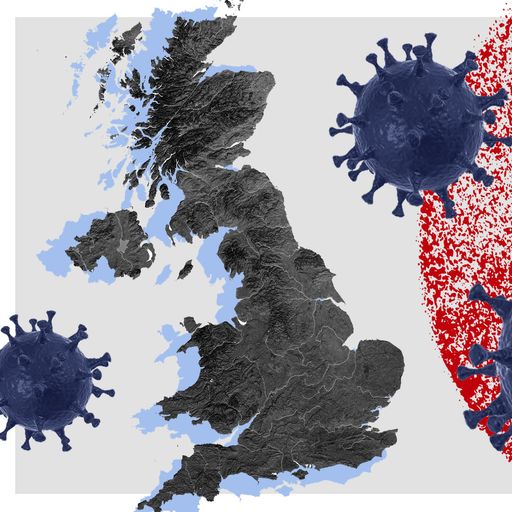 Coronavirus: How many cases are in your area?
ING analysts said of the market mood in a note: "The main worry seems to be the central banks running out of policy space needed to combat the impact of the virus.
"And this now calls for a coordinated fiscal response by the governments."
Wells Fargo Securities forecast a recession for the US in the April-June quarter and Joel Prakken, chief US economist at IHS Markit, projects the economy will shrink at a 5.4% annualised rate during the quarter.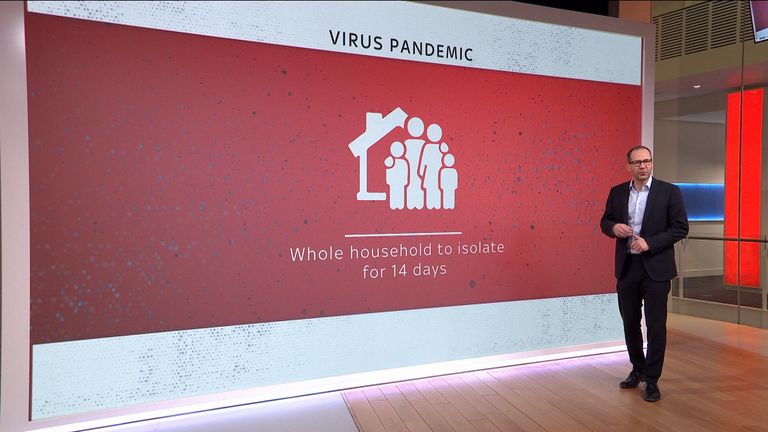 A key theme of the announcements from both Mr Sunak and his US counterpart was that concerns about the cost of fiscal help must be placed to one side.
The Chancellor repeatedly pledged to do "whatever it takes" while Mr Mnuchin said the US deficit was a matter for tomorrow.
The UK's measures were widely welcomed though unions and worker-interest groups appealed for Mr Sunak to do more for workers they they face the prospect of pay cuts or losing their jobs.
Dame Carolyn Fairbairn, the CBI's director-general, said: "The Chancellor has taken substantial steps in unprecedented times.
"Today's massive increase in government-backed loans, higher cash grants and widened business rates relief for some sectors will help firms protect jobs and businesses.".
She added: "Urgent decisions are also needed on wages. An immediate mechanism is needed to top up wages for firms with no choice but to reduce hours for lower paid staff, so they can keep them employed and get through to the other side."