US congressman who was caught lying steps down from committees
A US congressman who lied about his past has stepped down from key committees on Capitol Hill.
George Santos has resisted calls for his resignation as a member of the US House of Representatives after it emerged he fabricated claims about his background.
Amid increasing pressure to step down, he has now announced that he will be "temporarily rescued from committee assignments".
"With the ongoing attention surrounding both my personal and campaign financial investigations, I have submitted a request to Speaker McCarthy that I be temporarily recused from my committee assignments until I am cleared," he said in a statement.
"This was a decision that I take very seriously. The business of the 118th Congress must continue without media fanfare.
George Santos: The truth about Republican 'fraud' and what the future holds for him
"It is important that I primarily focus on serving the constituents of New York's Third Congressional District and providing federal level representation without distraction."
He added: "I want to personally thank Speaker McCarthy for meeting with me to discuss the matter and allowing me to take time to properly clear my name before returning to my committees.
"To my constituents, I remain committed to serving the district, and delivering results for both New York's Third Congressional District and for the American people."
The 34-year-old House of Representatives member had been given positions on congressional committees for science and small business.
Mr Santos was elected to the House of Representatives in November, but his short career in office has been dogged by continued revelations of falsehoods in his self-penned backstory.
On top of persistent questions about falsehoods surrounding his past employment, education, and family background, Mr Santos is facing separate investigations into his financial affairs and campaign finances.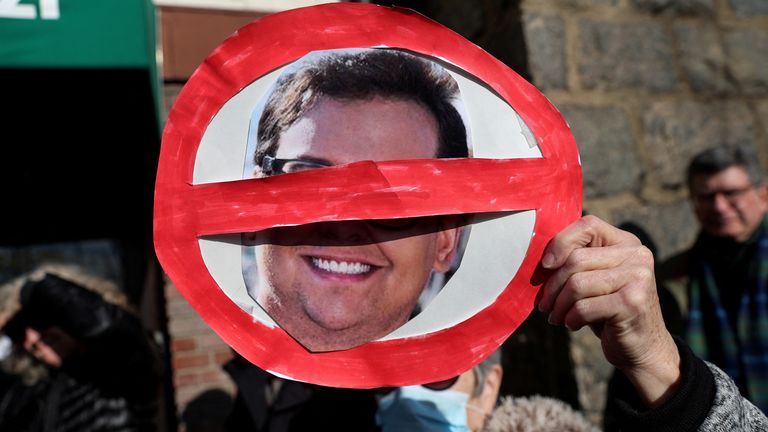 What claims has Santos made?
He claimed his grandparents survived the holocaust, but genealogical research found no evidence they had Jewish ancestry. Mr Santos subsequently claimed never to have claimed to be Jewish, only "Jew-ish".
He said his mother was in the World Trade Centre during the 9/11 attacks, but immigration records show she wasn't in the country at the time.
His claim to have been a Wall Street banker has been discredited by the employers he listed on his CV.
He said he was a volleyball star at New York's Baruch College, but it said it had no record of him.
Drag performers in Brazil say they remember Mr Santos as a drag queen, named Kitara Ravache. When questioned, Mr Santos told reporters he merely had "fun at a festival".
Twitter
Due to your consent preferences, you're not able to view this.
Open Privacy Options
'Deceit, lies and fabrication'
Calls for Mr Santos to resign as a congressman have been made by Republicans as well as his Democrat opponents.
In the district where he was elected, New York's Nassau County, local Republicans have called for him to stand down, calling his election campaign one of "deceit, lies and fabrication".
Read more:

Santos accused of taking money from veteran's fundraiser

Parallels between chaos of Republicans and UK Conservatives
Santos, however, still enjoys the backing of senior Republicans on Capitol Hill, who need his seat to maintain a slim majority in the House of Representatives.