Trump tests negative for coronavirus after meeting infected Brazilian official
Donald Trump has tested negative for coronavirus after a meeting with Brazilian president Jair Bolsonaro and a staff member who tested positive, the president's doctor said.
The White House released the test results on Saturday night after Mr Trump revealed hours earlier he had taken the COVID-19 test.
He had refused to be tested for days despite being in direct and indirect contact with several people who have coronavirus, including three who he spent time with last weekend at his Mar-a-Lago club in Florida.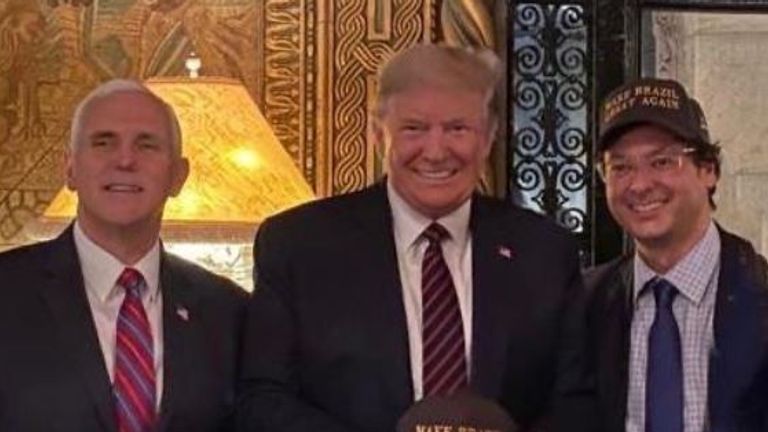 One of the trio was the Brazilian president's communications director, Fabio Wajngarten, who tested positive on Thursday.
Mr Trump and vice president Mike Pence had said they did not need to be tested as they had "almost no interactions" with him, although he posted a picture on Instagram of himself next to the pair and was seen in a video just behind the two presidents.
:: Listen to the Daily podcast on Apple Podcasts, Google Podcasts, Spotify, Spreaker
Late on Friday, the Brazilian Embassy in Washington said the country's charge d'affaires, Nestor Forster, tested positive after sitting at Mr Trump's table at a dinner.
More from Covid-19
Coronavirus: More than 10,000 armed forces staff put on standby over COVID-19 spread

Coronavirus: PHE leaked document says '7.9 million could be hospitalised'

Coronavirus: Donald Trump urges panic buyers to 'relax' as Federal Reserve cuts interest rate

Coronavirus: What it is like on Rome's empty streets

Coronavirus: No 10 to hold daily news conferences on COVID-19 fight following calls for transparency

Coronavirus: Jeremy Corbyn accuses government of being 'well behind the curve' on COVID-19
The third infected person attended a campaign fundraiser with the president, according to two Republican officials who spoke on condition of anonymity.
Mr Trump had been reluctant to take the test in case it projected weakness or worry, two people close to the White House said.
In other developments:
Ten more patients have died in England after testing positive for COVID-19, bringing the total UK deaths to 21
The PM will be told by Virgin Atlantic bosses that the airline industry needs government aid worth up to £7.5bn, Sky News learns
Hundreds of people, including scientists, have written to the government urging immediate "more restrictive measures" be brought in to enforce social distancing
Donald Trump confirms European travel ban is to be extended to the UK and Ireland on Monday, as he tests negative for coronavirus after meeting an infected Brazilian official
Jet2 planes heading to Spain turned back in mid-air as the airline announced it was cancelling all flights to the country
Travel company TUI cancelled holidays booked in Spain this weekend
Private hospital beds may be taken over for coronavirus patients
British food retailers are urging customers to shop responsibly
On Saturday, a total of 2,226 COVID-19 cases had been confirmed in the US, but Dr Anthony Fauci, director of the National Institute of Allergy and Infectious Disease said the outbreak had not yet reached its peak.
Mr Trump extended a European travel ban on Saturday to include the UK and Ireland after a sharp rise in cases and deaths.
Before becoming president, Mr Trump admitted he was scared of germs and tried to avoid handshakes.
However, on Saturday he said since becoming a politician he has found it difficult to resist shaking hands.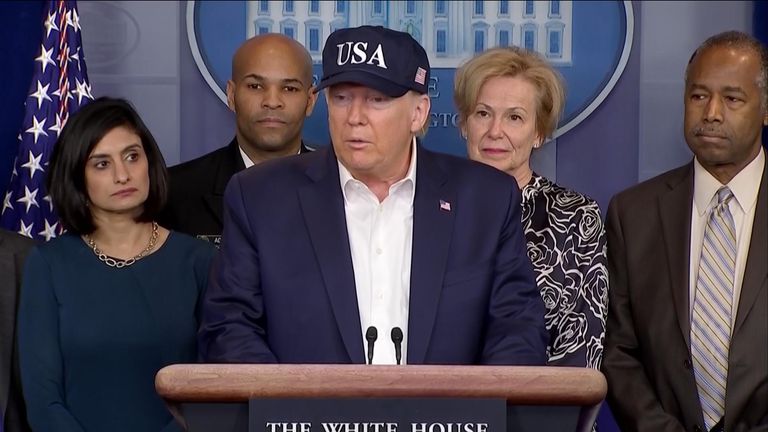 At a news conference on Friday where Mr Trump declared a national emergency, he shook hands of several corporate executives even though the White House's health policy experts have urged Americans to avoid physical contact.
The White House has introduced temperatures checks on anyone who is in close contact with Mr Trump and Mr Pence, including reporters who attend White House briefings and anyone entering the Oval Office.