'The threat is here': Joe Biden says climate change has reached 'code red' on visit to Storm Ida victims
President Joe Biden says climate change has reached "code red" and is now "everybody's crisis".
Mr Biden spoke as he toured New York neighbourhoods severely impacted by flooding when Ida brought record amounts of rain to the northeastern states, killing at least 64 people.
He met people whose homes were destroyed or severely damaged in New Jersey and Queens in New York City, stopping to hug one woman outside a wrecked home.
The president said the damage everyone is seeing, from wildfires in the west, to hurricanes in the south and northeast, shows the time for action is now.
"The threat is here. It is not getting any better," Mr Biden said in New York. "The question is can it get worse. We can stop it from getting worse."
Some 27 people were killed in flooding in New Jersey, while in New York City, 13 people were killed due to Ida, including 11 in Queens.
Mr Biden repeated his warning when he visited Manville, New Jersey, also ravaged by Ida.
More on Hurricane Ida
Hurricane Ida: Broken pipeline found by divers in search for Gulf of Mexico oil spill

Storm Ida: Video shows New York police trying to save family killed by floodwaters

Storm Ida causes miles-long oil spill in Gulf of Mexico – as responsibility for damage is disputed

Joe Biden vows to help US communities recover as number killed by Storm Ida rises to 64

'It's all trashed everywhere': Residents of New Jersey community assess the damage after Storm Ida

Storm Ida: Communities ripped apart as tail of storm brings flooding to US northeast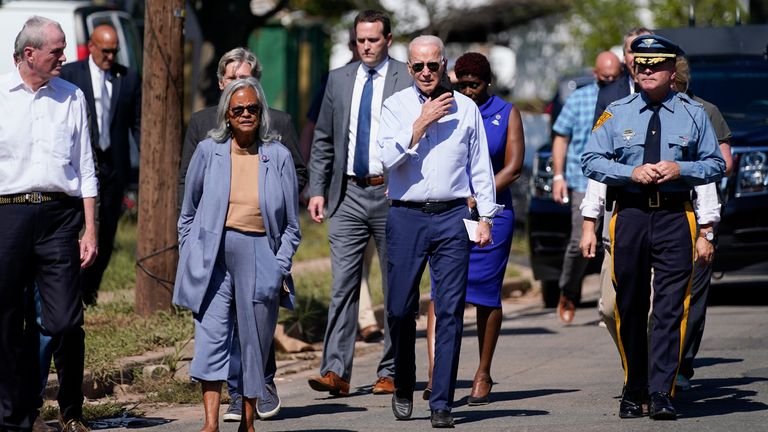 He walked along a street in the Lost Valley neighbourhood of Manville, where the clean-up continues.
He spoke to adults and children, including Meagan Dommar, a new mother whose home was destroyed by fire as the flood occurred. She told him that she and her husband, Caesar, had left with the baby before the flooding, then returned to find destruction.
"Thank God you're safe," Mr Biden replied.
She said afterward she hoped the visit would speed help "along a little bit" and said she was grateful for the visit.
Please use Chrome browser for a more accessible video player
NYPD try to rescue family from Ida floods
Although, not everyone was so welcoming. He was taunted by supporters of former President Donald Trump, who yelled that Mr Biden was a "tyrant".
Later during a briefing with officials Mr Biden said: "Every part of the country, every part of the country is getting hit by extreme weather."
He added that the threat from extreme weather events must be dealt with in ways that will lessen the devastating effects of climate change.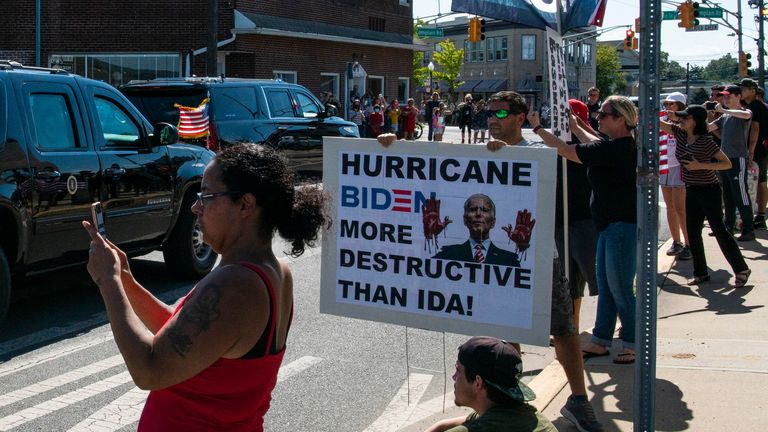 "We can't turn it back very much, but we can prevent it from getting worse," he said. "We don't have any more time."
Mr Biden is hoping his plan to spend $1 trillion fortifying infrastructures, including electrical grids, water and sewer systems, against extreme weather will pass a House vote.
On Tuesday, the White House asked Congress for an additional $24 billion in disaster aid to cover the costs of Ida and other destructive weather events.
Watch the Daily Climate Show at 6.30pm Monday to Friday on Sky News, the Sky News website and app, on YouTube and Twitter.
The show investigates how global warming is changing our landscape and highlights solutions to the crisis.