Promises, promises: Which ones has Trump kept in his presidency?
His supporters take him seriously but not literally, his opponents in reverse.
So it was wisely said of Donald Trump before he took office.
There is a limit to how seriously we take his promises. They all have an element of hyperbole.
So that makes it harder judging if he's achieved them or not.
But behind each boast and promise we can discern a clear intent on his part to help judge how well he has delivered.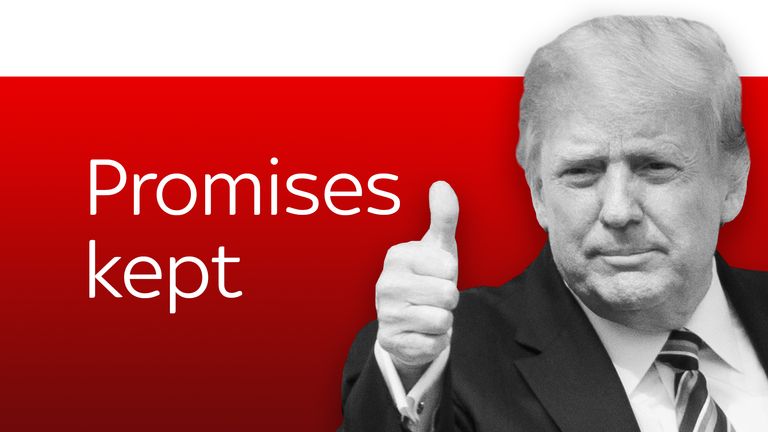 MIDDLE EAST
On Israel and the Middle East, Mr Trump has done some of what he promised and then some.
He said he would move the US embassy to "the eternal capital of the Jewish people Jerusalem" despite warnings it would lead to an eruption of fresh violence.
He did and it didn't.
The move broke one of the golden rules of Middle East policy making.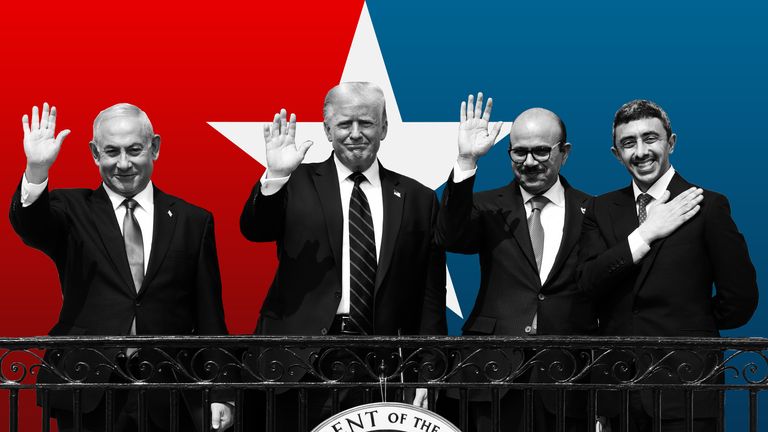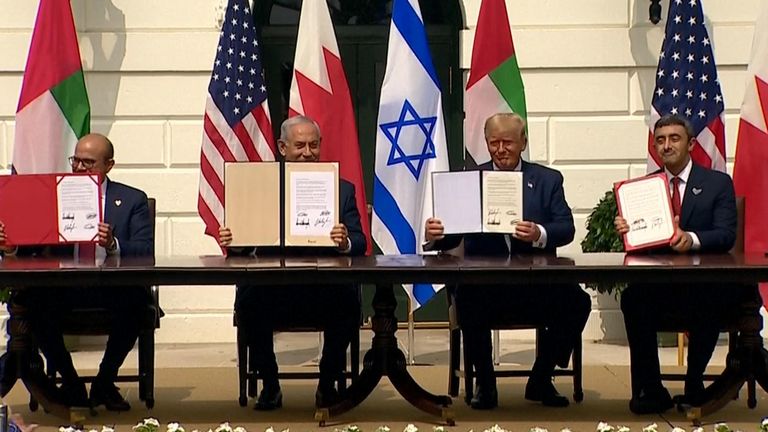 Another shibboleth of the foreign policy establishment is the maxim is that peace between Israel and the Arabs can only start with peace between Israel and the Palestinians.
But the Trump administration has managed to broker peace, or a normalisation of relations at least, between Israel and the UAE and Bahrain, in spite of Palestinian objections.
Please use Chrome browser for a more accessible video player
Middle East accords signed at White House
Saudi Arabia most likely approved the idea behind the scenes too.
Having said that, he has not produced the "deal of the century" Israeli/Palestinian peace agreement that he has long promised.
Supporters say his other Middle East achievements make that more likely. Palestinians strongly disagree.
THE SUPREME COURT
Donald Trump promised to appoint a conservative judge, and by the election has appointed three.
Mr Trump may not be that ideologically motivated but he knows many of his voters are.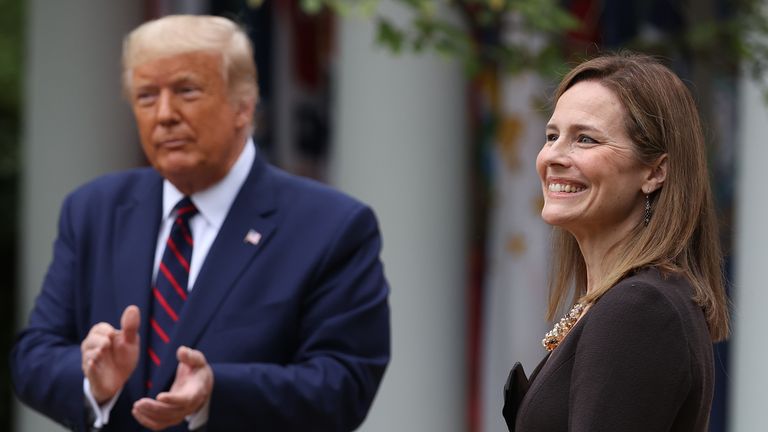 By tilting the balance on the Supreme Court bench firmly in favour of conservatives he knows he will earn the undying loyalty of millions of Americans.
Whereas Barack Obama held back from filling a vacant Supreme Court seat until after the last election, Mr Trump is showing no such qualms.
He was determined to expedite the appointment of Amy Coney Barrett to replace Ruth Bader Ginsburg. Her appointment means a 6-3 conservative-liberal balance among Supreme Court judges.
That raises the prospect of key pieces of legislation being overturned, not least abortion laws.
And if the outcome of the election in November is indecisive and ends up in the Supreme Court and Chief Justice John Roberts abstains, the casting vote will be in the hands of a judge whose appointment will be seen by many to have

been rushed through in the face of controversy.
PULLING OUT FROM INTERNATIONAL AGREEMENTS
When Donald Trump was elected, it was said that once in office wiser counsels would prevail. Advisers would talk him out of some of the more alarming parts of his electoral programme.
Foreign policy experts were worried he would follow through on his threat to withdraw from a deal on Iran's nuclear weapons programme and the Paris Climate Change Agreement but hoped he could be persuaded not to.
He has ended up pulling out of both.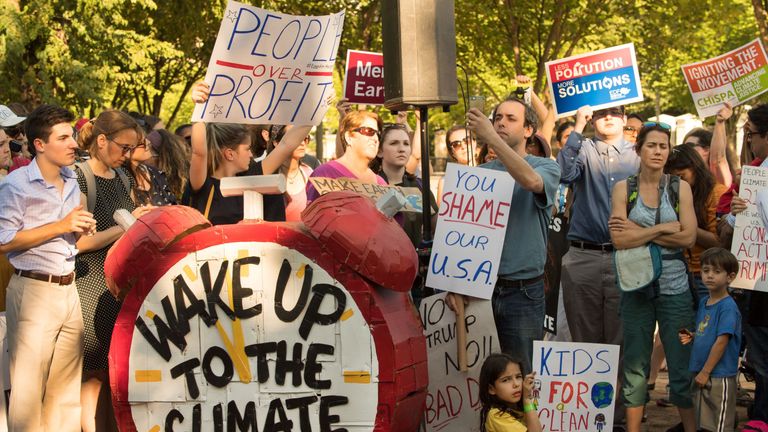 His administration abandoned the Joint Comprehensive Plan of Action as the Iran deal was catchily called, saying it sent a message that "the United States no longer makes empty threats".
And last November his government began the year-long process to exit the Paris deal making it the only country in the world not to participate in the pact.
Please use Chrome browser for a more accessible video player
'The US no longer makes empty threats'
That process ends the day after the election.
Mr Trump's opponent Joe Biden has promised to reverse the decision and many like it that he says endangers the planet.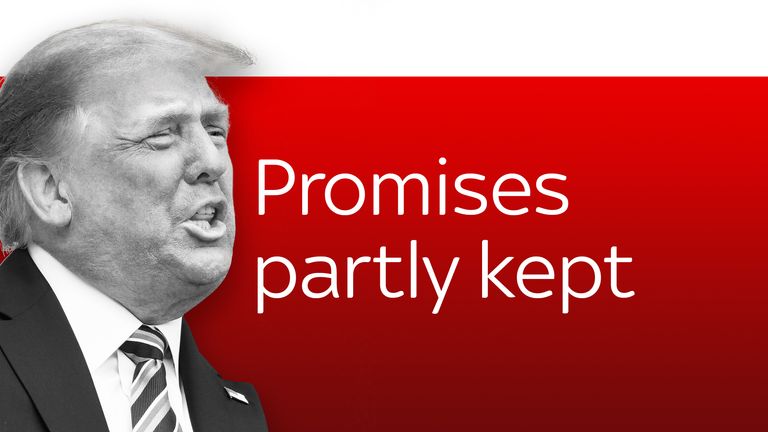 END AMERICA'S 'FOREVER WARS' AND BRING THE TROOPS HOME
Mr Trump's record on this is mixed.
America is still deploying troops pretty much everywhere it was before he took office.
He has reduced the US military presence in Afghanistan and in northeast Syria, but there his withdrawal was seen as a betrayal of America's staunch allies the Kurds, who were left at the mercy of Turkey.
Please use Chrome browser for a more accessible video player
'Soleimani's no longer a monster… he's dead'
He hasn't started any fresh military adventures abroad but critics say he has certainly risked doing so.
The assassination of Iranian military commander Qassem Soleimani could have led to open conflict with Iran, for instance.
His supporters say his willingness to take such action has made America stronger, more feared and therefore less likely to need to send troops abroad to defend its interests.
ISLAMIC STATE OBLITERATED
Donald Trump said he would obliterate Islamic State.
On his watch its caliphate has been dismantled and its self appointed caliph, Abu Bakr al Baghdadi is dead.
Please use Chrome browser for a more accessible video player
Trump vows to 'extinguish' IS
Please use Chrome browser for a more accessible video player
Trump: 'Terror leader died like a dog'
It has to be said that the foundations of much of that were laid by the previous administration.
Destroying Islamic State as a geographic entity has been a long grinding process. But credit where it's due.
Having said that, the organisation is not destroyed. Many of its members have been killed or captured but many others have been dispersed to fight another day across Iraq and Syria.
BAN ON MUSLIMS
Donald Trump provoked outrage by promising a "total and complete" shutdown on Muslims entering the US before his campaign to become his party's candidate.
That was downgraded to extreme vetting once he had clinched the nomination.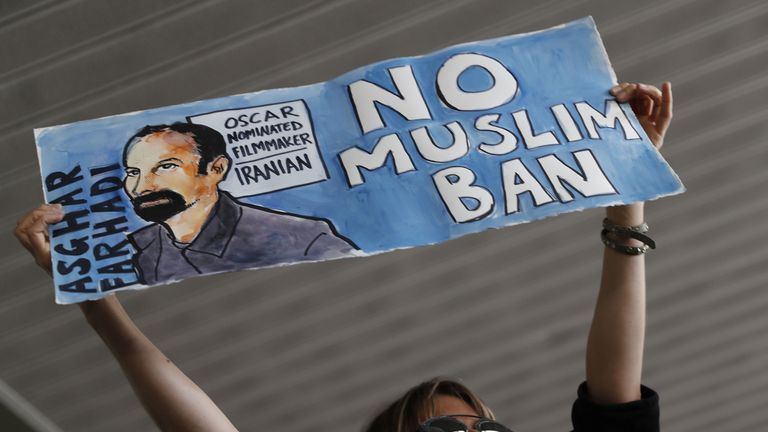 As president he tried a number of travel bans. Two got stuck in the courts but a third went into effect on travellers from a number of predominantly Muslim countries.
The list of proscribed countries was expanded in January.
It has never been a total and complete shutdown of Muslims if that was ever Mr Trump's intention.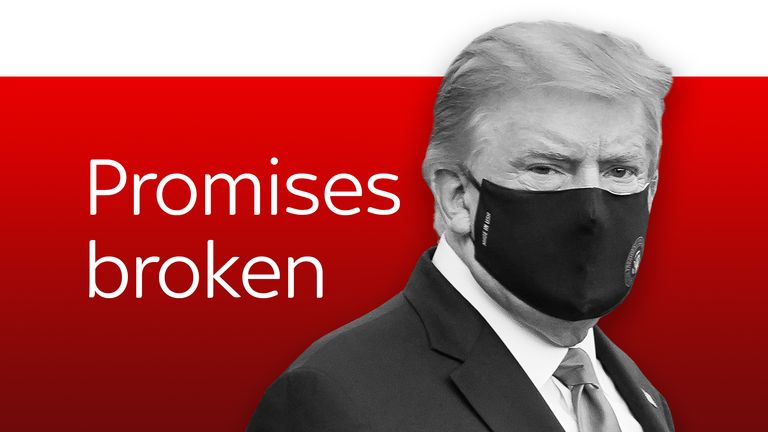 'THE GREATEST ECONOMY IN AMERICAN HISTORY'
That was Mr Trump's promise and his boast, but does it stand up to scrutiny?
In this case he made a specific promise. He said he would produce national economic growth of 4%, but he has failed to meet that target.
A huge tax cut in 2017 did energise the economy but at its best it reached an annual rate of 2.9%. Even on a quarterly basis the US economy did not hit this figure – with a highest increase of 3.9% in two quarters, according to the Bureau of Economic Analysis.
And it's worth pointing out that Barack Obama enjoyed similar jobs growth in his last three years in office as Mr Trump did in his first three years before the coronavirus pandemic.
Please use Chrome browser for a more accessible video player
Mr Trump's growth rates are all in line with the average since 2000.
And they've come with a huge increase in debt as the federal government has borrowed to pump money into the economy.
COVID-19
Mr Trump made many promises on coronavirus.
He promised millions of masks, "more ventilators than we need", and easily available testing.
Please use Chrome browser for a more accessible video player
Mask off: Trump back at White House
He said the country may overcome the pandemic by late summer as it "washes through". He also predicted a vaccine might be approved by October.
Instead the president ended up in hospital with the virus himself while America remained the country worst affected by it.
But worse than unfulfilled promises are claims that the president played down the threat from the virus publicly while knowing how severe it really was.
Please use Chrome browser for a more accessible video player
Trump's most controversial COVID comments
In his book Rage Bob Woodward documents the president told him he knew the coronavirus was deadlier than flu – "deadly stuff" – while two weeks later telling a press conference: "This is a flu. This is like a flu."
The president's complacency is no doubt one reason why his White House ended up riddled with the virus by early October.
BIG BEAUTIFUL WALL, PAID FOR BY MEXICO
Mr Trump has made a lot of claims about the border wall he said he would build along the border with Mexico to keep out immigrants.
But until the beginning of the year it had made little progress.
Since then US Customs and Border Protection says it's picked up pace extending a barrier along the border.
Please use Chrome browser for a more accessible video player
Trump: We will build Mexico wall
350 miles of border wall has gone up, according to US Customs and Border Protection, and more is being built at the rate of 10 miles a week. Another 300 miles is under construction.
Mr Trump has resorted to using defence funds to build the wall, after battling through the courts for the right to do so.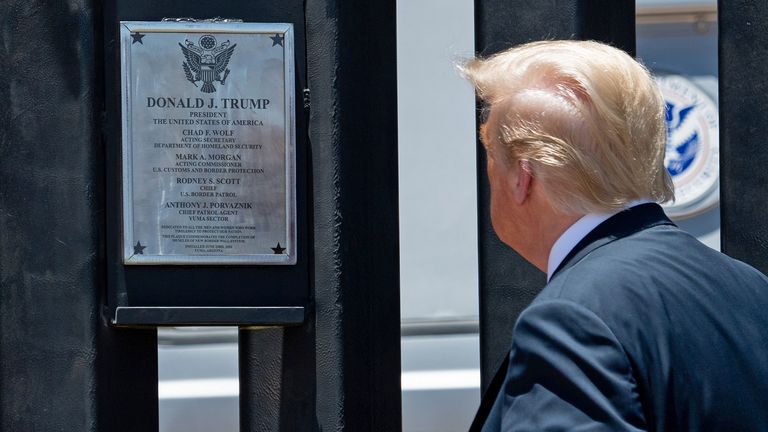 Congress only stumped up just over a billion dollars so the president invoked a national emergency to divert Pentagon funds without congressional approval.
So only a few hundred miles built and not paid for by Mexico.