Police officer who shoved snow into suspect's mouth during arrest quits
A police officer has resigned after he was filmed stuffing snow into the mouth of a suspect as he arrested him.
Body cam footage shows Charles Hicks II crying for help as John Turnure forces snow into his mouth while restraining him in Akron, Ohio.
Hicks, who is black, shouts "I can't breathe sir, I can't breathe", echoing the words of George Floyd who died after police officer Derek Chauvin placed his knee on his neck in Minneapolis.
Akron Police Chief Mike Caprez announced on Thursday that Turnure, who is white, had resigned on 30 March.
He said it was for "various personal and professional reasons", and it was not an admission of wrongdoing.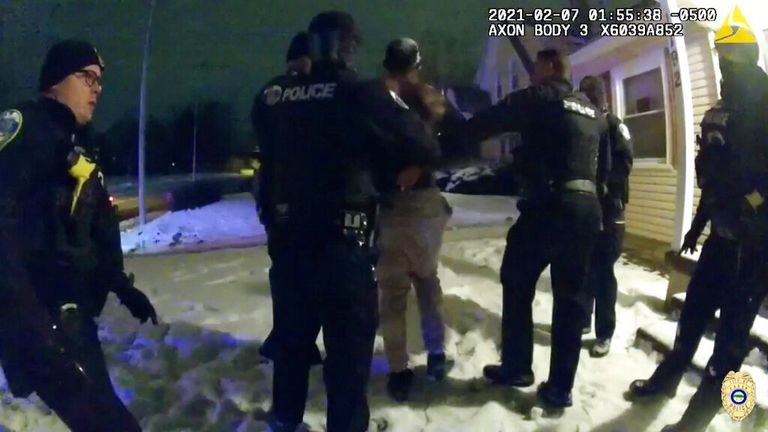 With an internal investigation still ongoing, Mr Caprez said: "Up until the time snow was used, it was textbook… we did everything right up to that point."
Akron's mayor Daniel Horrigan said: "We disrespected a citizen and for that I apologise."
More from Ohio
COVID-19: Bride and groom among 32 infected at Ohio superspreader wedding

US Election 2020: When are the presidential debates and how do they work?

Coronavirus: Ohio student confronted after holding house party where everyone has tested positive for virus

Bus driver calmly helps students escape overturned bus

Whitney Houston and Notorious BIG inducted into Rock & Roll Hall Of Fame

Donald Trump calls Iranian general's death 'American justice' during Ohio rally speech
The video footage shows Hicks, 26, shirtless and outside his home on 7 February.
His girlfriend had called the police claiming she was concerned for her safety after he threatened her with a knife and mentioned a gun.
Hicks resists officers' attempts to handcuff him and is forced to the ground.
He groans as Turnure shoves snow into his mouth and is stood back up again when he claims he can't breathe.
Hicks told the Akron Beacon Journal on Wednesday: "It was one of the scariest moments of my life."
His lawyer, Eddie Sipplen, said Hicks wants the officer to face criminal charges.
Hicks was charged with domestic violence and resisting arrest. He is due in court later this month.