'Please, President Biden – help me': Harry Dunn's mother appeals for justice in tearful video
Harry Dunn's mother has made an emotional appeal to president-elect Joe Biden, pleading with him to review her son's case.
Despite negotiations between the US and the UK, President Donald Trump has so far refused the extradition of Anne Sacoolas, a US citizen charged with causing Harry's death in the UK by dangerous driving.
In a tearful video directly appealing to the incoming president, Harry's mother Charlotte Charles described the pain of living without her son, saying: "We've been living now without Harry for 16, 17 months… every day is excruciatingly painful still."
Biden inauguration: Watch and follow events on Sky News from 1pm on Wednesday, with the ceremony starting at 4pm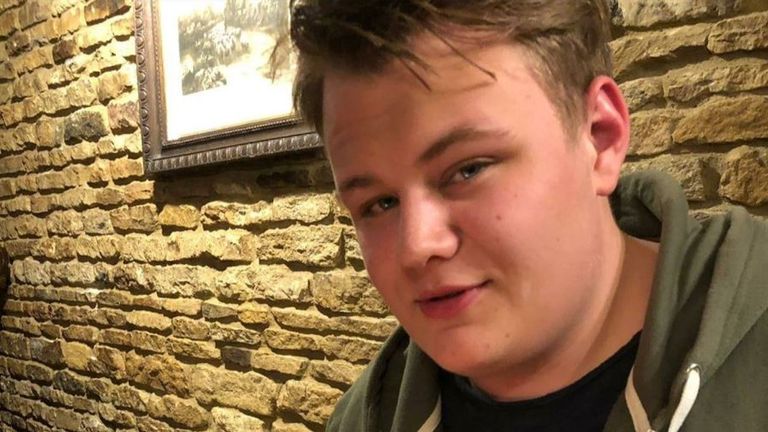 She continued: "I still haven't been able to piece together the last two, three hours of my son's life.
"I deserve more than that. And Harry certainly deserves his justice. He was 19 and doing nothing wrong apart from riding his motorbike.
More from Harry Dunn
Harry Dunn death: Foreign secretary 'strongly' backs family's claim for damages in US

Harry Dunn: Family loses High Court legal challenge over decision to give Anne Sacoolas diplomatic immunity

Harry Dunn death: Suspect Anne Sacoolas was not entitled to immunity, court hears

Harry Dunn death: Teenager's mother has 'renewed hope' for justice from Joe Biden

Harry Dunn death: US diplomat denied 'virtual' trial

Harry Dunn death: Sacoolas was on the wrong side on the road for 20 seconds before hitting motorcyclist
"Please, President Biden, help me to start to rebuild my life."
Ms Sacoolas was driving on the wrong side of the road when she was involved in a crash with Harry, who was on his motorbike, outside RAF Croughton in Northamptonshire in 2019.
She later claimed diplomatic immunity and returned to the US, leaving Harry's family fighting for the case to be heard.
Mr Biden is set to be inaugurated in two days, taking over the reins at the White House.
Ms Charles urged the president-elect to review the case and "reverse the decision" to extradite Ms Sacoolas, referencing Mr Biden's previous words that "absolutely nobody is above the law".
Subscribe to the All Out Politics podcast on Apple Podcasts, Google Podcasts, Spotify, Spreaker
"We are not out to cause anybody any harm. We are not vengeful people," she said.
"We are a very, very regular family. I just miss my son."
Lawyers acting for Harry's parents and twin brother have now filed a civil claim for wrongful death against Ms Sacoolas and her diplomat husband Jonathan.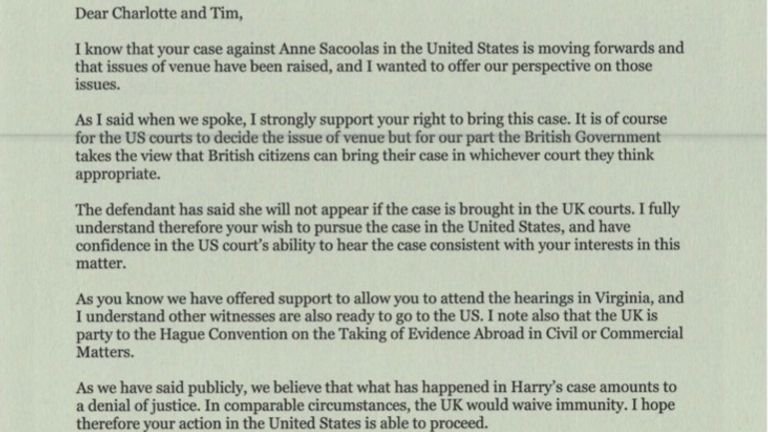 The family's case has been backed by Foreign Secretary Dominic Raab, who wrote them a letter saying he strongly supported their attempt to bring a claim for damages.
Ms Sacoolas's lawyers are trying to get the claim dismissed and she has always refused to return to the UK voluntarily.
Her lawyers say that the case should be dismissed under the doctrine of "forum non conveniens", arguing that her home jurisdiction is an inconvenient forum and the case should be heard in the UK.