NBA star explains why he didn't kneel in honour of Black Lives Matter
A basketball player has become the first NBA star not to kneel during the national anthem as part of the Black Lives Matter movement since the league restarted on Thursday.
Jonathan Isaac, a forward with Orlando Magic and an ordained minister, was also the first NBA player not to wear a Black Lives Matter shirt during the rendition of The Star-Spangled Banner.
The NBA star explained his decision by saying that kneeling or wearing a Black Lives Matter T-shirt "don't go hand in hand in supporting Black Lives Matter", and added that "Black lives are supported through the Gospel".
Isaac was seen standing while teammates knelt around him before the Magic's victory over the Brooklyn Nets.
Explaining his decision, he said: "I do believe that Black lives matter, I just felt like it was a decision I had to make, and I didn't feel like putting that shirt on and kneeling went hand in hand with supporting Black lives.
"I don't think that kneeling or putting on a T-shirt for me, personally, is the answer.
"For me, Black lives are supported through the Gospel, all lives are supported through the Gospel."
More from Black Lives Matter
LeBron James urges NBA community to 'keep foot on the gas' in fight against social injustice

FA chairman Greg Clarke claims bid to increase diversity on its board was blocked

Lando Norris expects more organised anti-racism display at British GP

White House 'to send more federal troops to Portland' amid protests

Will COVID-19 & Black Lives Matter protests 'destroy' Trump's chances of re-election?

Portland: Parents, nurses and veterans join protests after federal officers deployed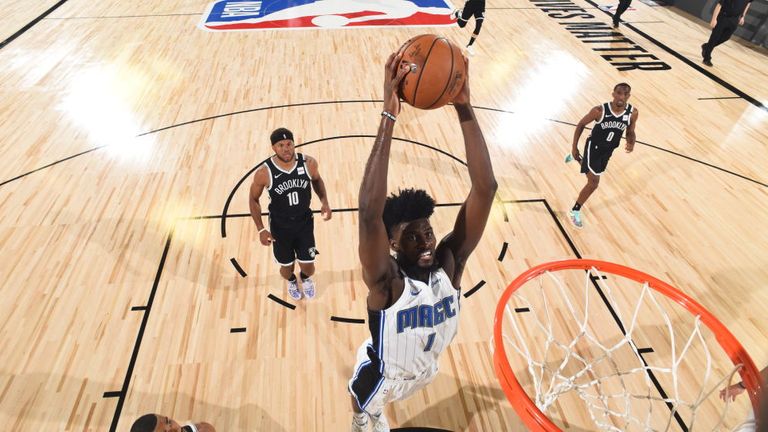 Orlando Magic coach Steve Clifford backed the Isaac's decision and said: "That's a personal decision.
"We're all supporting each other in this, and if guys are not comfortable kneeling and they want to stand, nobody has a problem with that.
"I support him. His team-mates support him. The organisation supports him. That's part of living in our country."
All players and coaches for the New Orleans Pelicans, Utah Jazz, Los Angeles Lakers and Los Angeles Clippers had kneeled for the anthem on Thursday.
San Antonio Spurs head coach Gregg Popovich and assistant coach Becky Hammon both stood for the anthem on Friday and both wore Black Lives Matters shirts.