'Hero' bystander shoots dead man who killed three at US shopping centre
Three people have been killed and two injured in a shooting at a mall food court in Indiana after a man with a rifle opened fire.
The man entered Greenwood Park Mall and began firing, fatally injuring three people before eventually being killed himself by an armed civilian, police say.
One of the wounded was a 12-year-old girl with a minor injury, the Indianapolis Star has reported.
Indiana has some of the more relaxed gun laws among US states, and just this month scrapped the need for those wanting to carry handguns to need a permit – even if it is concealed.
"We are sickened by yet another type of incident like this in our country," Indianapolis Assistant Chief of Police Chris Bailey said.
US Senator Todd Young, a Republican from Indiana, tweeted: "Terrible news tonight in my home county. Praying for the victims of a shooting at the Greenwood Park Mall.
"Thank you to our law enforcement officers who responded."
More on Indiana
Indiana man, 60, accused of dismembering dead girlfriend with a chainsaw

Body of young boy found in Las Vegas suitcase by mushroom hunter in Indiana

US tornadoes: Family photo found after being blown nearly 130 miles from Kentucky to Indiana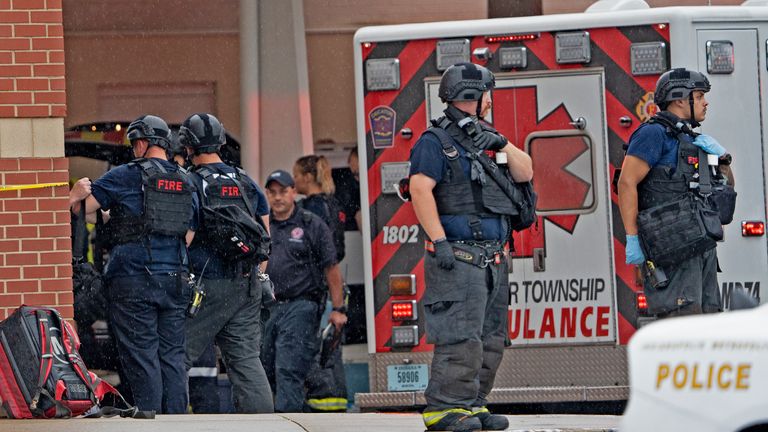 Officers went to the mall around closing time at about 6pm local time after the alarm was raised.
Authorities have been searching the mall for any other victims, but it is believed the shooting was contained to the food court.
Greenwood is a south suburb of Indianapolis with a population of about 60,000.
Mayor Mark Myers asked for "prayers to the victims and our first responders."
"This tragedy hits at the core of our community," he said in a statement.