Former US stockbroker convicted of being sniper and trainer for Islamic State
A former US stockbroker has been convicted of being an Islamic State sniper and training dozens of other long-range shooters for the terror group.
Ruslan Maratovich Asainov, 46, is a Kazakh-born US citizen who left his family in Brooklyn in December 2013 before travelling to Syria just as IS came to power.
The trial is the latest in a series of cases against people accused of leaving their countries to join Islamic State.
Asainov's former wife told the court that he converted to Islam in 2009 and later resigned from his job as a broker before he started to watch radical sermons online.
The prosecution had built the case largely on Asainov's own words in messages, emails, recorded phone calls and an FBI interview.
Prosecutors said fought he fought in numerous battles as a sniper for IS and instructed nearly 100 other militants in shooting techniques.
In his closing statement, prosecutor Douglas Pravda told a court in Brooklyn, New York, that "people died as a result of the defendant's conduct. It is time to hold him accountable".
More on Islamic State
Islamic State terror banker Bilal al-Sudani killed by US special forces in Somalia mountain cave hideout

German mother accused of joining Islamic State and keeping Yazidi woman as a slave to go on trial

Islamic State still a threat and could once again seize power in parts of the Middle East like Syria, experts say
Asainov did not testify and told the court he was "not part of this process".
'Very warped view'
Asainov's lawyers did not dispute he went to Syria and was affiliated with IS, but they argued his accounts were boasts and did not prove his conduct led to anyone's death.
Sabrina Shroff told the jury it was clear her client had a "very warped view" but that they shouldn't "confuse his views with what is needed to convict him beyond a reasonable doubt".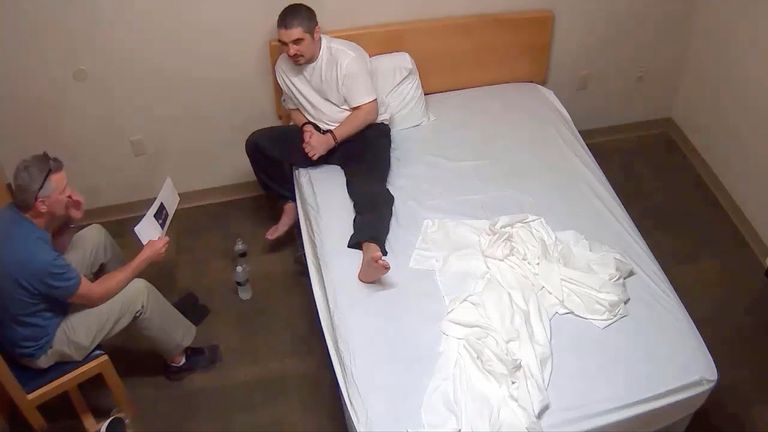 The trial heard Asainov had sent photos of himself in camouflage gear with a rifle, as well as pictures of the bloodied bodies of men whom he claimed to have fought.
After his arrest, he defiantly declared in court that he was an "Islamic State citizen, not a United States citizen".
Read more from Sky News:

Man executed for killing girlfriend and three children

Baldwin's legal team seeks to disqualify prosecutor on Rust case
Jail officials said they also discovered a hand-drawn version of the group's flag in his cell.
He told his mother in a call recorded on the facility's phones that her son "doesn't exist anymore" and that he would "be fighting until the end".
Jurors found Asainov guilty of offences including providing and attempting to provide support to a terror organisation.
His actions led to at least one death, the jury concluded, which could mean he faces life in prison.
He will be sentenced on 7 June.