Former US Secretary of State Colin Powell dies following COVID complications, says family
Former US Secretary of State Colin Powell has died following coronavirus complications, his family has said.
A statement on his Facebook page posted by his family said the 84-year-old "passed away this morning due to complications from COVID-19".
"He was fully vaccinated," they said.
"We have lost a remarkable and loving husband, father, grandfather and a great American."
NBC News cited his spokesperson Peggy Cifrino and a family member as saying he was at Walter Reed National Medical Centre in Maryland at the time he died, where he had been suffering from multiple myeloma.
Mr Powell was the first African American secretary of state and the first black chairman of the joint chiefs of staff.
At the time he held the secretary of state role, from 2001-2005, it was the highest any African American had been in the federal executive branch of the US government, until Barack Obama became president.
More from US
COP26: US senator blocking Joe Biden's climate legislation poses threat to success of climate summit

Kourtney Kardashian and Travis Barker engaged: Couple share 'forever' photos as stars including Kim Kardashian share congratulations

Facebook plans to hire 10,000 people in Europe to build its metaverse
Secretary of State is fourth in line after the president in the line of succession, and only Condoleeza Rice held the same role in the year's before Mr Obama's election.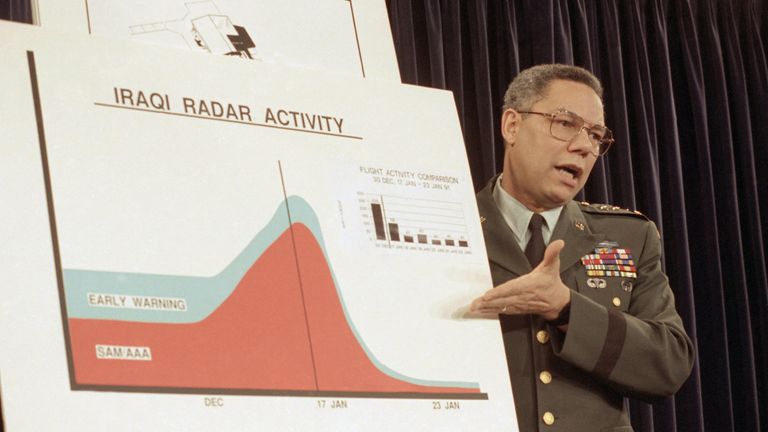 Before his becoming the US's chief diplomat, he was best known for his role in front of the camera during the first Gulf War, where as the highest-ranking and most senior military officer in the United States Armed Forces he would brief the media about the liberation of Kuwait and then the push on into Iraq, in what has been described as the first 24-hour televised war.
That 1991 war, in which then General Powell served under George H W Bush, was generally judged a success as it expelled the forces of Saddam Hussein from Kuwait with limited loss of American lives.
But Mr Powell was then appointed secretary of state under his son, George W Bush, who embarked on the second Gulf War in 2003.
Mr Bush paid tribute to Mr Powell, saying: "Laura and I are deeply saddened by the death of Colin Powell. He was a great public servant, starting with his time as a soldier during Vietnam. Many Presidents relied on General Powell's counsel and experience.
"He was national security adviser under President Reagan, chairman of the Joint Chiefs of Staff under my father and President Clinton, and secretary of state during my administration.
"He was such a favourite of presidents that he earned the Presidential Medal of Freedom – twice. He was highly respected at home and abroad. And most important, Colin was a family man and a friend. Laura and I send Alma and their children our sincere condolences as they remember the life of a great man."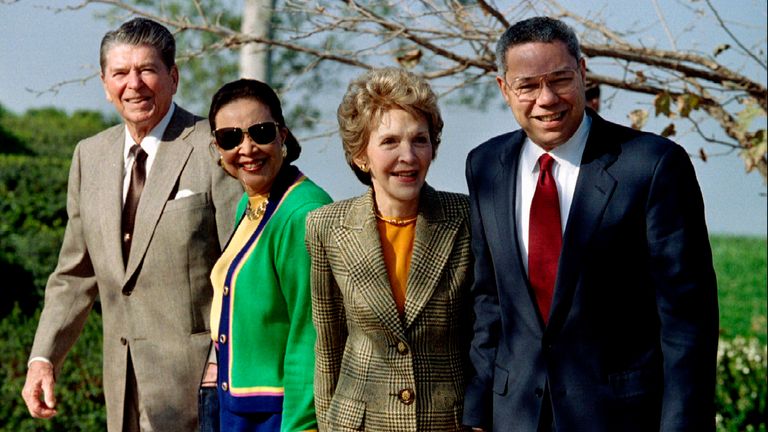 Tony Blair, who was prime minister during the second Gulf War, said: "Colin was a towering figure in American military and political leadership over many years, someone of immense capability and integrity, a hugely likeable and warm personality and a great companion, with a lovely and self-deprecating sense of humour.
"He was wonderful to work with, he inspired loyalty and respect and was one of those leaders who always treated those under them with kindness and concern.
"His life stands as a testament not only to dedicated public service but also a strong belief in willingness to work across partisan division in the interests of his country. I am so sorry to hear the news of his death."
Also as chairman of the Joint Chiefs of Staff, he oversaw the US invasion of Panama but his reputation suffered a painful setback when he went before the UN Security Council to made the case for US war against Iraq in 2003, claiming it was necessary because Saddam Hussein was holding weapons of mass destruction.
In that session, he claimed that the "facts and Iraq's behaviour show that Saddam Hussein and his regime are concealing their efforts to produce more weapons of mass destruction".
But it was a claim that turned out not to be true and he later admitted the speech was a "blot" on his record.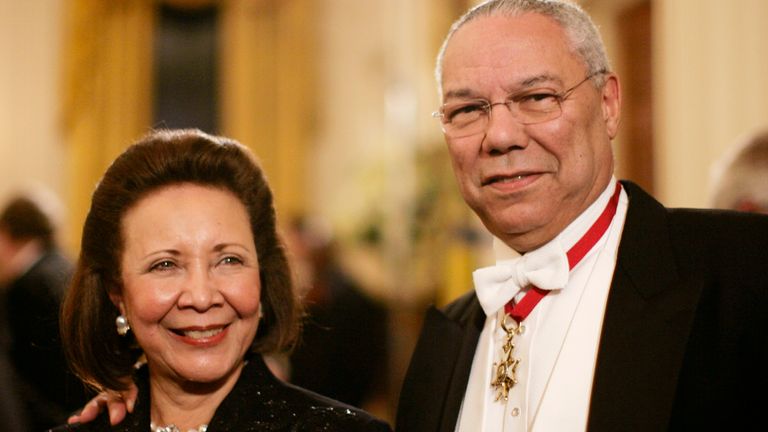 The invasion of Iraq in the second Gulf War, which the speech aimed to justify, remains highly controversial, with many citing the deadly unintended consequences that occurred in the wake of the conflict.
Others in the African American community paid tribute to him.
US Secretary of Defence Lloyd Austin, who only became the first African American defence secretary under President Joe Biden, said: "The world lost one of the greatest leaders that we have ever witnessed.
"Alma lost a great husband, and the family lost a tremendous father and I lost a tremendous personal friend and mentor. He has been my mentor for a number of years. He always made time for me and I could always go to him with tough issues. He always had great counsel…
"First African American chairman of the joint chiefs, first African American secretary of state – a man who was respected

around the globe… quite frankly, it is not possible to replace a Colin Powell. We will miss him."
Rev Al Sharpton, the civil rights activist, said on Twitter: "My condolences to the family of Colin Powell. Though we

disagreed on many issues, I always respected him and was proud of his achievements. When he and I ran into each other and conversed, I always left feeling he was a sincere and committed man to what he believed in. RIP"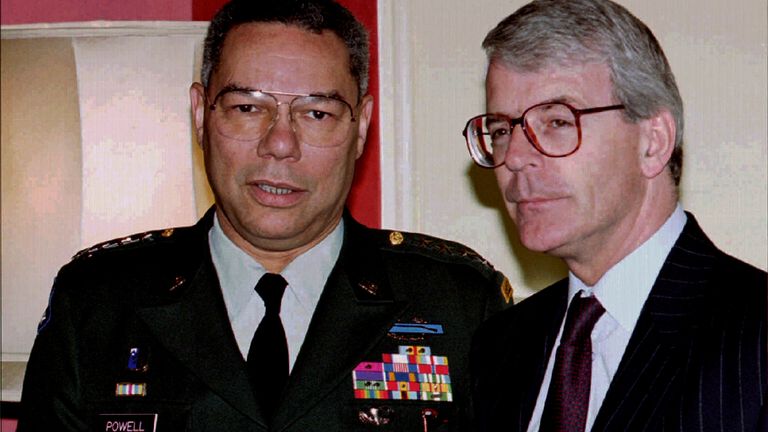 Before he was appointed as Secretary of State, Mr Powell was worked for a national nonprofit organisation that worked to mobilise Americans to build the character and abilities of young people.
It was during this time, after his retirement from the military in 1993, that he took part in civic life, and attended the dinner at which Princess Diana won the Humanitarian of the Year award in New York.
He had been born in Harlem and grew up in The Bronx before receiving his commission in the US army, having finished college, where he had been a reservist, with a BSc.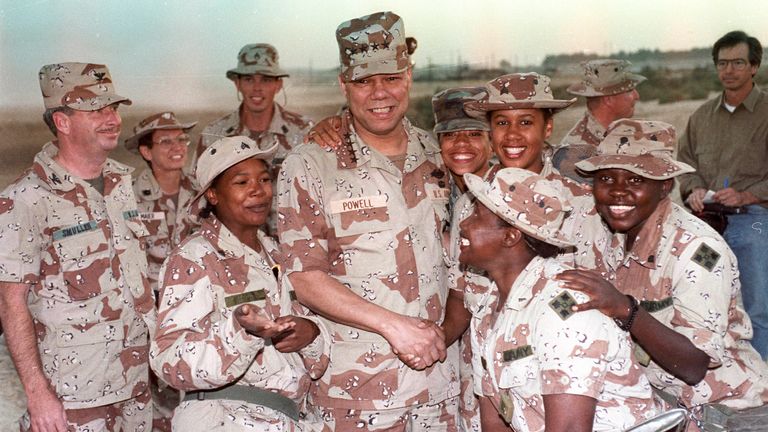 He went on to serve in Germany, Vietnam twice and South Korea before he rose up to ranks to the level of senior military assistant to defence secretary Caspar Weinberger, during the 1983 invasion of Grenada and the 1986 airstrike on Libya.
It provided the foundation for his later political roles, that began with his work as national security adviser to Ronald Reagan in 1987, after his predecessor Frank Carlucci was promoted in the midst of the Iran-Contra Affair.