Eleven die as severe storms lash swathes of US
At least 11 people have died after a series of severe storms swept through the south and Midwest of the US.
High winds, tornadoes and torrential rain have battered large areas of the country, leaving hundreds of thousands of people without power.
Two emergency services personnel were killed and another was critically injured when they were hit by a vehicle while working at a road accident in icy conditions in Lubbock, Texas.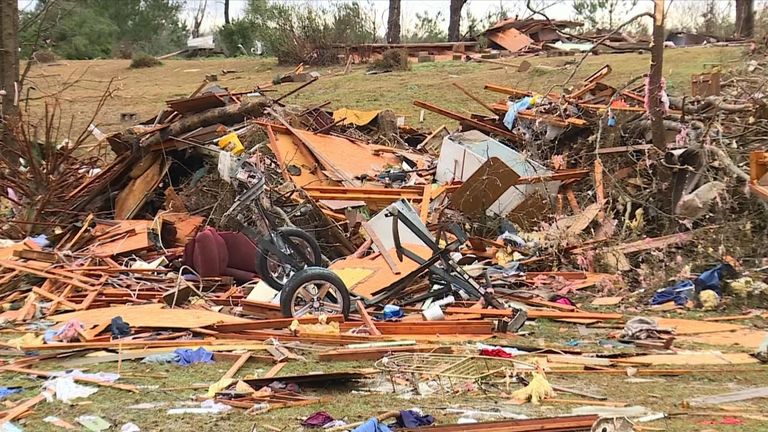 Highways were closed in Arkansas and in Oklahoma where a man drowned when he was swept away by floodwaters.
Another person died in Texas on Friday night when a car drove into a creek during a heavy thunderstorm and in Alabama, three were killed by a tornado.
In northwestern Louisiana, two people died when their mobile home was picked up and carried 200ft (60 metres).
Another tornado in Louisiana left a 75-year-old dead when a tree landed on his home while he was in bed in Oil City.
More from US
Trump's reckless Middle East rampage makes mad Bush's rush to war look thoughtful

Harry Dunn death: US says extradition request 'highly inappropriate'

Donald Trump calls Iranian general's death 'American justice' during Ohio rally speech

Internal messages reveal Boeing worker wouldn't let his own family on a 737 MAX

Steve McQueen's Ford Mustang from Bullitt sells for $3.4m at auction

Gamer having seizure saved by online friend 5,000 miles away
About 67,000 people suffered power outages in Alabama, 98,000 were left without power in Georgia and tens of thousands of others were cut off in Mississippi, Louisiana, Texas and Ohio.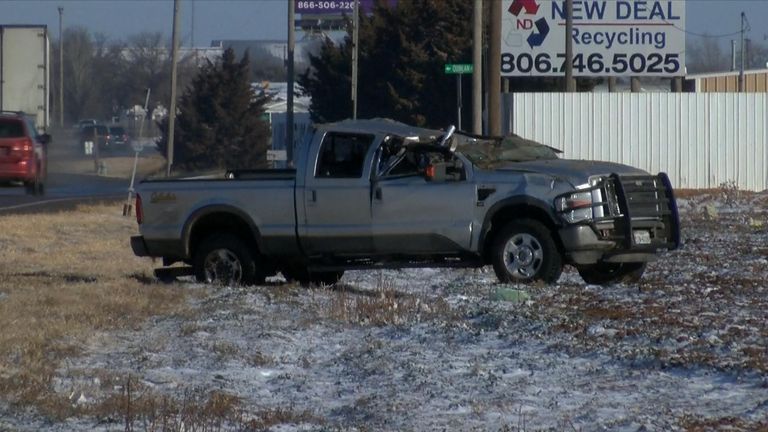 Video footage has emerged of a roof being ripped off a building in Rome, Georgia.
Severe damage was also reported in Tennessee.
The highest winds were reported in Bossier Parish, near Shreveport, Louisiana, where a twister of up to 135mph (217km/h) was recorded.
Flash flood warnings remained in place in several states and the threat of severe snow, as the storms headed north, led to the cancellation of more than 1,200 flights.