Doctor's 'heartbreak' at seeing coronavirus patients die alone
A doctor treating critically ill coronavirus patients at the centre of the US outbreak says he fears he will suffer from post-traumatic stress disorder after the "heartbreak" of seeing victims die alone.
Dr Steve Kassapidis, who is working seven days a week in the intensive care units at New York's Mount Sinai Hospital, told Sky News that he cannot sleep and "every day is etched in my memory" during the "endless" battle against COVID-19.
The US now has more deaths in the coronavirus pandemic than any other country, with the numbers exceeding more than 19,600 on Saturday.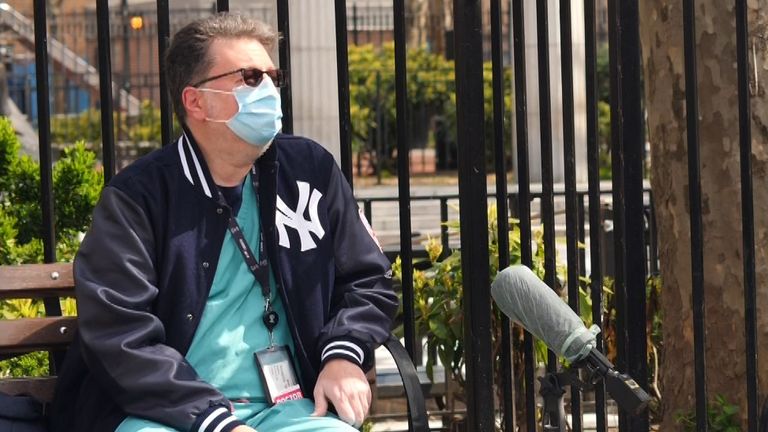 New York state alone has more cases of COVID-19 than any single country outside the US, at more than 180,000.
More than 8,600 people have now died in New York after contracting the virus.
Dr Kassapidis, who has previously described the "hell" at New York's COVID-19 ground zero, said his colleagues would "break down sometimes" due to the "devastation" caused by the virus.
"When you're intubating a co-worker, it gets to you," he said.
More from Covid-19
Coronavirus: 130,000 call for MPs to lose £10,000 work from home allowance

Coronavirus: Nurses should refuse to work if they aren't given PPE, new guidance says

Coronavirus: New Labour leader Sir Keir Starmer demands 'urgent talks' on parliament's return

Coronavirus: Young men drinking beer in park swear at nurse after being told to move

Boris Johnson: I owe doctors and nurses my life after coronavirus treatment

Coronavirus is ripping through this care home at a frightening speed
"When your co-worker's family member is intubated and is dying, it gets to you.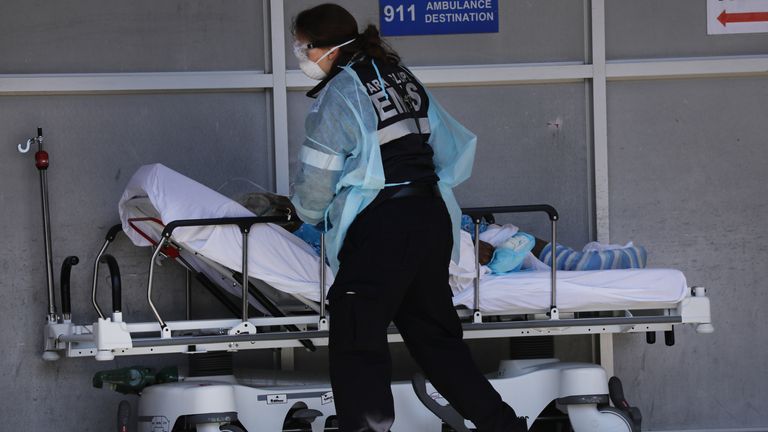 "Unfortunately though, as physicians ,we've just got to suck it up and go to the next one.
"It's heartbreaking, especially when you have patients who die alone. For instance, I had a patient who I've known for 25 years. A sweet, old gentleman.
"He died alone. His family couldn't come and see him.
"I've witnessed times when families call looking for their loved ones and unfortunately they passed away a day or two before and this family member didn't know. That's a hard call to take."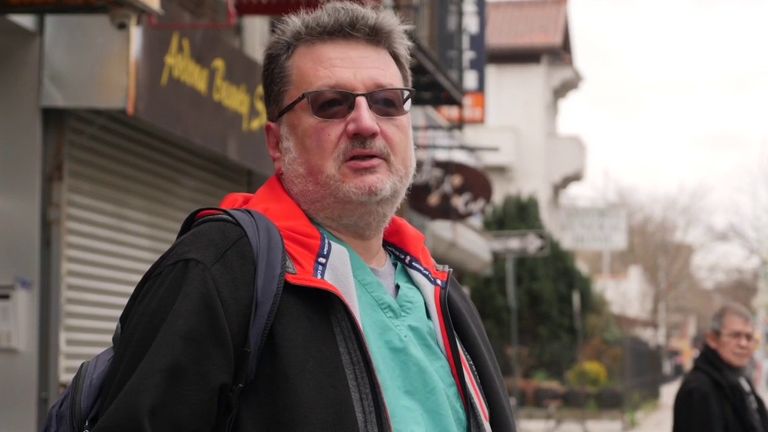 Describing his own personal turmoil, Dr Kassapidis said: "I can't sleep. Obviously I worry about my family, my daughter, my loved ones.
"I worry about having PTSD later on in life when it's all over, hopefully, and I wake up from nightmares in the middle of the night.
"If you're not really in it, you do not understand how bad it is.
"You can't understand the full breadth of what's going on. And it's better off that they don't.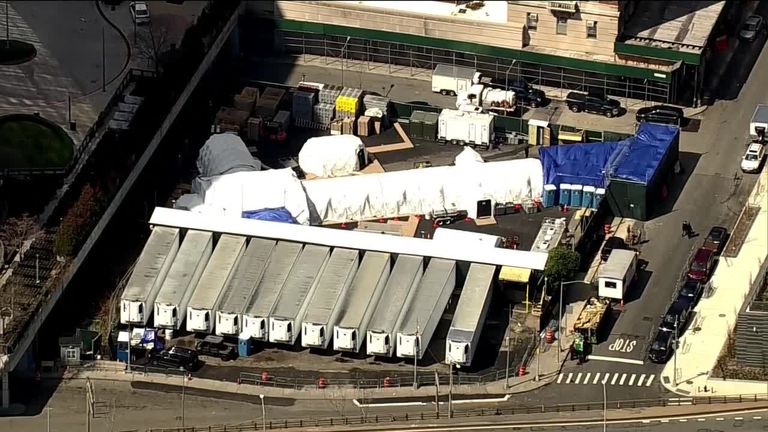 "The devastation of families is unthinkable. This wipes out families. Wipes out cities.
"Every day is etched in my memory. It's heart-wrenching, it's devastating.
"No one was ready for this. Everybody tries to throw politics into this.
"No politicians were ready for this, nobody across the world was ready for this.
"This has ripped through Europe, through China, through the US and it's going to continue to do so and this is the worst enemy to have because you can't see see them.
::Listen to Divided States on Apple podcasts, Google Podcasts, Spotify, and Spreaker
"This is endless and it keeps coming. Comes in waves. You can't let your guard down, can't sleep.
"You've got to keep fighting because remember every time we don't fight, every time we slip, somebody dies."
After New York state reported on Saturday that another 783 coronavirus patients had died, governor Andrew Cuomo said the daily number of deaths is stabilising "but stabilising at a horrific rate".
With authorities warning that the crisis in New York is far from over, New York City Mayor Bill de Blasio announced that the city's school system – serving 1.1 million students – will remain closed for the rest of the academic year.