Coronavirus worse 'attack' than 9/11 and Pearl Harbor – Trump
US President Donald Trump has called the coronavirus outbreak the "worst attack" on the US, saying the outbreak had affected the country more than Pearl Harbor or 9/11.
Mr Trump has doubled down on his criticism of China over the outbreak, and said that the COVID-19 pandemic is the "enemy".
He told White House reporters on Wednesday evening: "We went through the worst attack we've ever had on our country, this is worst attack we've ever had.
"This is worse than Pearl Harbor, this is worse than the World Trade Center. There's never been an attack like this.
"And it should have never happened. Could've been stopped at the source. Could've been stopped in China. It should've been stopped right at the source. And it wasn't."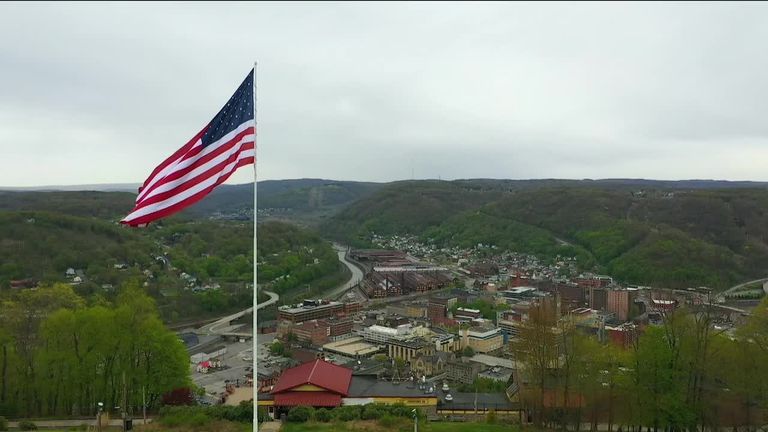 The president added: "I view the invisible enemy as a war. I don't like how it got here, because it could have been stopped, but no, I view the invisible enemy like a war."
Mr Trump's administration has blamed the outbreak on China, with the president and his secretary of state, Mike Pompeo even claiming they have evidence the virus was developed in a lab in Wuhan, China – a claim the Chinese government flatly denies.
More from Covid-19
Coronavirus: Black people four times more likely to die with COVID-19 than white people – ONS

Coronavirus: A 14% fall in GDP would be unprecedented – but there is some good news

Coronavirus: Government blames test target failure on 'technical issues' in labs

Gollum star Andy Serkis to give 12-hour live reading of The Hobbit – with 'all the voices'

Coronavirus: PPE shipment flown in from Turkey fails UK safety standards

Coronavirus: 'Nothing has bound the planet together quite so much, whilst also separating us'
Mr Pompeo later admitted he is not certain that COVID-19 came from a Wuhan lab.
The Chinese government responded to the latest comments by Mr Trump saying the enemy the US is facing is the virus – not China.
:: Listen to Divided States on Apple podcasts, Google Podcasts, Spotify, and Spreaker
More than 73,000 people in the US have died with coronavirus – the highest death toll in the world, while more than 1.2 million people have tested positive for COVID-19, according to Johns Hopkins University
By comparison, the attack on Pearl Harbor claimed the lives of more than 2,000 American troops, with the September 11 attacks in 2001 killing almost 3,000 citizens.
In January, Mr Trump praised his Chinese counterpart Xi Jinping over his handling of the outbreak, but has since made a full U-turn on his comments, in what is a crucial election year for the president.