Chinese spy balloon heading eastwards as US sec of state Blinken cancels visit
The US defence department has said the Chinese spy balloon is heading eastwards but poses "no physical or military threat" to civilians.
The Pentagon's press secretary would not confirm the current location of the balloon, which is operating at around 60,000ft.
There is also no evidence of any nuclear or radioactive material on board but it has the ability to be manoeuvred, according to Brigadier General Pat Ryder.
Watch:

Future Wars: Could there ever be a conflict between the US and China?
He also rejected Chinese claims that the balloon was in fact a "civilian airship" that had strayed into American airspace.
The US authorities said it now knows the object – spotted over Billings, Montana,on Wednesday, close to one of the US's three nuclear missile silo fields at Malmstrom Air Force Base – was a Chinese balloon flying over sensitive sites to collect information.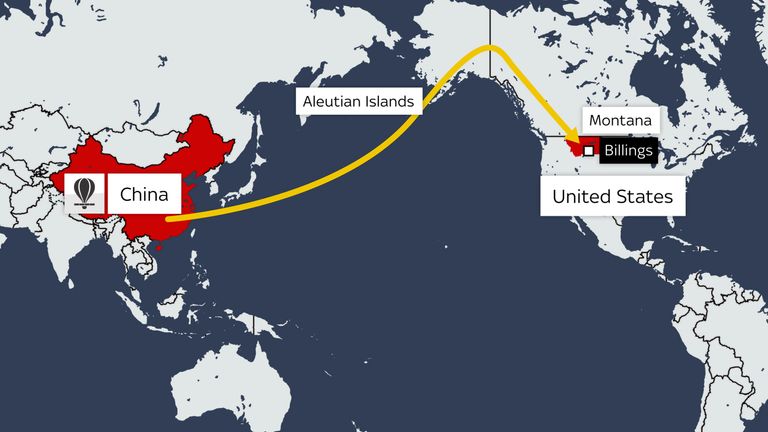 US Secretary of State Antony Blinken postponed a high-profile visit to China which had been due to begin on Sunday.
Senior state department officials described the incident as a "clear violation of US sovereignty and international law" and said conditions were "not right at this moment" for Mr Blinken to travel.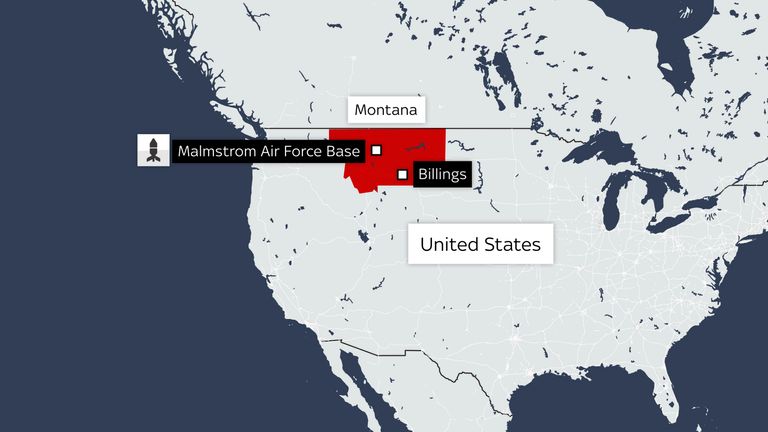 Mr Blinken was prepared to depart for China tonight before the trip was postponed, Sky News understands.
He plans to travel "when conditions allow", according to officials.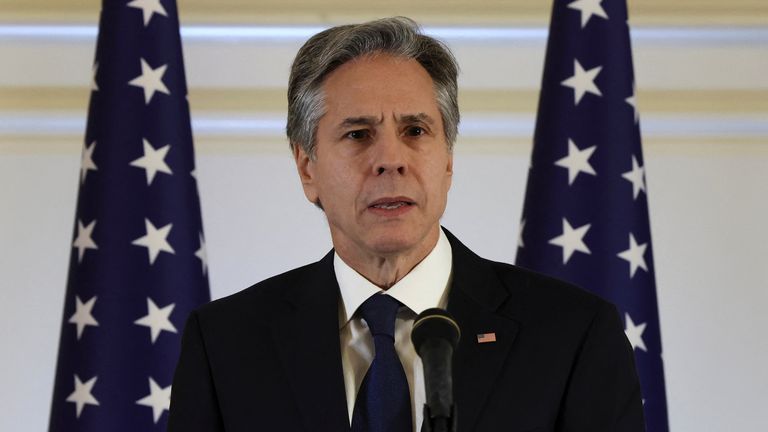 The Foreign Ministry in Beijing admitted the balloon had come from China – but said it was for meteorological and other scientific research.
The Pentagon spokesperson said it is "monitoring the situation closely and will continue to review options".
Read more:

What are spy balloons?
The balloon will probably remain over the US for a few days, the spokesperson added.
US officials also confirmed military intelligence had previously seen similar surveillance balloons elsewhere.
Please use Chrome browser for a more accessible video player
13:19
One expert says a US-China war is a risk that should be taken very seriously
The object is believed to have flown over the Aleutian Islands, off the coast of Alaska, and through Canadabefore entering the US.
Military and defence leaders had considered shooting the balloon out of the sky but decided against it due to the safety risk from falling debris.
Please use Chrome browser for a more accessible video player
0:19
China balloon: Appeal to be 'cool-headed'
US defence secretary Lloyd Austin convened a meeting of senior military and defence leaders to review the threat profile of the balloon and possible responses, which were presented to US President Joe Biden on Wednesday.
President Biden, speaking at a White House conference about jobs earlier today, refused to answer questions on the topic.
The US has engaged Chinese officials "with urgency" and communicated the seriousness of the situation.
China and the US have experienced tensions of late, clashing over Taiwan and China's human rights record and its military activity in the South China Sea.