China is biggest 'game-changing challenge', MI5 and FBI heads warn
The heads of MI5 and the FBI have used an unprecedented joint speech to warn that China is their biggest "game-changing challenge", with the UK doubling efforts to combat Chinese spying.
Christopher Wray, the director of the US Federal Bureau of Investigation, said Beijing is drawing lessons from Russia's war in Ukraine.
Talking about the Chinese threat to Taiwan, he said the Chinese government was looking for ways to protect its economy against any potential, future sanctions.
"We call that kind of behaviour a clue," Mr Wray said, sharing a platform with Ken McCallum on a visit to MI5's headquarters in London on Wednesday.
Western allies used sweeping sanctions to punish Russian President Vladimir Putin over his invasion of Ukraine.
Despite Russia posing a significant threat, the two security chiefs chose to focus on the Chinese Communist Party and its covert operations.
They accused Beijing of a vast, "blistering" effort to hack and steal Western advances in technology, research and other sectors as well as use the West's democratic, media and legal systems to their own advantage.
More on China
Hacker offers to sell Shanghai police database holding details on one billion Chinese residents

China's first COVID-19 vaccine mandate to be introduced in Beijing

Crew abandons sinking ship that snapped in half after being hit by deadly typhoon in South China Sea
"The most game-changing challenge we face comes from the Chinese Communist Party," Mr McCallum said, speaking to an audience of executives from technology companies and other officials invited to the joint talk at Thames House.
"It's covertly applying pressure across the globe. This might feel abstract. But it's real and it's pressing. We need to talk about it. We need to act."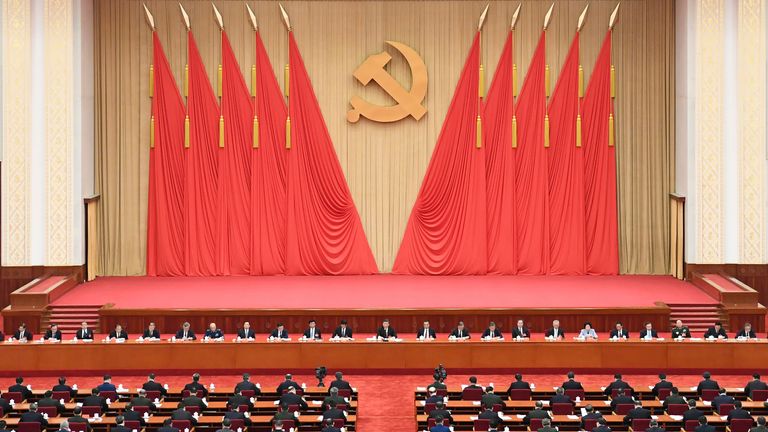 MI5 has more than doubled what the director general described as the Security Service's "previously constrained effort" against "Chinese activity of concern" since 2018 and is now running seven times as many investigations.
"We plan to grow as much again, while also maintaining significant effort against Russian and Iranian covert threats," Mr McCallum said. He added later that the doubling would take place in the next "handful of years".
The volume of work by the FBI on dealing with Chinese activities in the United States has risen by about 1,300% in the past "several years", Mr Wray said, noting that his agency on average opens a new China-linked investigation every 12 hours.
Read more:

Xi and Putin agree to deepen ties during 'warm and friendly' phone call

Fate of Ukraine matters because 'China is watching'
Asked whether the level of Chinese actions had changed in the wake of Russia's invasion of Ukraine in February, the FBI chief said: "The tempo at which the Chinese intelligence services and other proxies acting on their behalf have been going has been blistering for quite some time now."
The question of whether China will follow Russia's lead and use force to impose control over democratically ruled Taiwan remained an issue.
Mr Wray said Russia was "drawing all sorts of lessons from what's happening with Russia and its invasion of Ukraine". He urged his audience of industry executives that: "You should too."
The FBI chief noted how Western companies with business links to Russia have reportedly lost $59 billion and counting because of the war.
"If China does invade Taiwan we could see the same thing again at a much larger scale."