Cheers and tears on the streets as America reacts to new president
The US – and the world – is reacting to the news that Joe Biden will be the 46th president of the United States of America.
Following the newsthat Mr Biden was projected to winPennsylvania and the 20 electoral college votes needed to take the White House, cheering could be heard on the streets of New York, Washington DC and other cities.
Van Jones, a political commentator on CNN, broke down in tears following the news, saying it was "easier to be a parent this morning".
Congratulations also poured in for vice president-elect Kamala Harris, the first woman to take one of the two senior roles in the White House.
On Twitter, former presidential candidate Hillary Clinton said: "The voters have spoken, and they have chosen @JoeBiden and @KamalaHarris to be our next president and vice president.
"It's a history-making ticket, a repudiation of Trump, and a new page for America.
"Thank you to everyone who helped make this happen. Onward, together."
More from Us Election 2020
US election 2020: 'Bad things happened' – Trump makes new unfounded claims of electoral fraud

US election: Why is it taking so long? Expert explains how a winner is declared

US election 2020: Biden predicts election win with a 'clear majority', giving him a 'mandate for action'

US election 2020: Biden's striking proclamation offers a real glimpse of what Americans can expect

White House Chief of Staff Mark Meadows diagnosed with coronavirus

US election 2020: From SpongeBob to Eminem – some of the best memes from the US election so far
Heading down to the White House and there is a veritable parade coming down Connecticut Avenue. Follow here for updates on the DC reaction to Biden winning the presidency for @washingtonian#Election2020pic.twitter.com/VUEZEvFzDW

— Jane Recker (@janerecker) November 7, 2020
Canadian Prime Minister Justin Trudeau tweeted: "Congratulations, @JoeBiden and @KamalaHarris.
"Our two countries are close friends, partners, and allies. We share a relationship that's unique on the world stage. I'm really looking forward to working together and building on that with you both."
A cacophony of joy in Midtown Atlanta! pic.twitter.com/gi6Yb2WOgw

— Lynn 🦔 (@lynnhagewood) November 7, 2020
Irish Taoiseach Michael Martin sent his congratulations.
He said in a statement: "On behalf of the Government and the people of Ireland, I offer warmest congratulations to Joe Biden on his election as the 46th President of the United States.
"Ireland takes pride in Joe Biden's election, just as we are proud of all the generations of Irish women and Irish men and their ancestors whose toil and genius have enriched the diversity that powers America."
He added: "I also wish to congratulate Kamala Harris on her election as Vice-President and recognise the tremendous significance of her election to the role."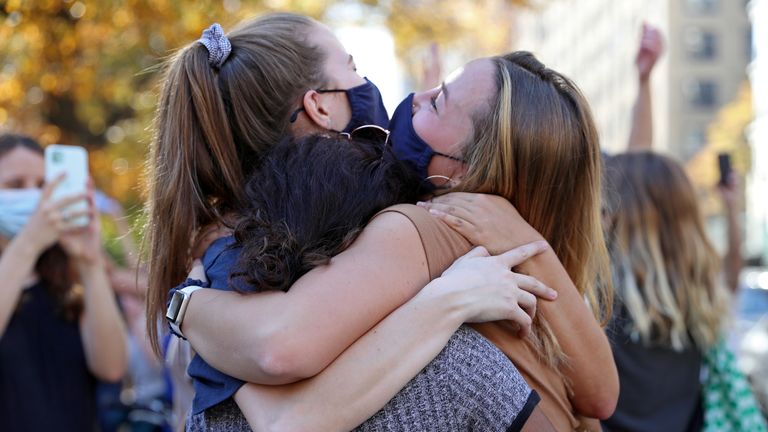 Those sending their best wishes included Scottish First Minister Nicola Sturgeon, who tweeted: "Congratulations from to President-Elect Joe Biden and to history-making Vice President-Elect Kamala Harris."
Sir Keir Starmer, the Labour leader, said: "Congratulations to @JoeBiden on his election as President of the United States of America.
"He ran a campaign on the values that we in the United Kingdom share – decency, integrity, compassion and strength."
Mayor of London Sadiq Khan said: "Congratulations @JoeBiden and @KamalaHarris on your well-deserved win.
"London looks forward to working with you – it's time to get back to building bridges, not walls."