Biles says mental health issues behind withdrawal as she admits: 'I just didn't want to go on'
Simone Biles has said mental health concerns were behind her shock withdrawal from the team gymnastics final at the Tokyo Olympics as she admitted: "I just didn't want to go on".
Biles, the superstar US gymnast who was bidding for six gold medals coming into the competition, pulled out after a disappointing start.
Without her, the American team finished second behind the Russian Olympic Committee.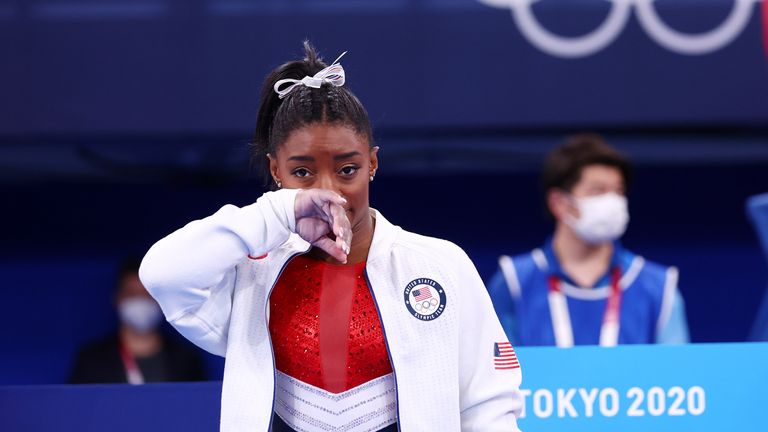 Initially the reason given by team bosses for her withdrawal was a "medical issue".
But, speaking to reporters, Biles, who won four golds and a bronze in Rio, said: "After the performance I did, I just didn't want to go on."
She wasn't hurt, she said, but had suffered "just a little injury to my pride".
"I have to focus on my mental health. I just think mental health is more prevalent in sports right now … we have to protect our minds and our bodies and not just go out and do what the world wants us to do.
More from World
Germany explosion: One dead and four people missing after blast at industrial park

Tokyo Olympics: Team GB claim six medals on day four following historic swimming and gymnastics success

Tokyo Olympics: Simone Biles withdraws from gymnastics team final due to apparent injury

North Korea restores communications hotline with South after a year

Iran's secret cyber files on how cargo ships and petrol stations could be attacked

Hong Kong: Tong Ying-Kit found guilty of terrorism and secessionism under China's controversial national security law
"I don't trust myself as much anymore … maybe it's getting older. There were a couple of days when everybody tweets you and you feel the weight of the world.
"We're not just athletes, we're people at the end of the day and sometimes you just have to step back."
Her Olympics is far from over, with her next outing the women's all-around final in two days' time.
"We're going to see about Thursday," she said, echoing the team's statement that she "will be assessed daily to determine medical clearance for future competitions".
Biles added: "We're going to take it a day at a time and see what happens. I'm just trying to gear up for the next test. I tried to go out there for the team and they stepped up to the plate."