Biden arrives in UK ahead of G7 summit in Cornwall – his first official overseas trip as US president
Joe Biden has arrived in the UK on Air Force One ahead of the G7 summit in Cornwall.
He touched down at RAF Mildenhall in Suffolk on Wednesday evening, beginning his first overseas trip as US president.
A large crowd of US Air Force personnel and their families were waiting for him inside a hangar, where he is due to address them.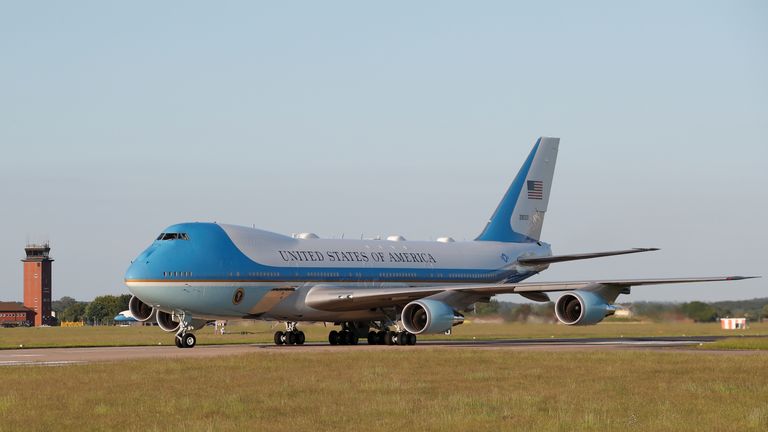 He is expected to spend about 90 minutes at Mildenhall before flying to Newquay and then travelling on to Tregenna Castle in Carbis Bay.
He will meet Prime Minister Boris Johnson tomorrow before the G7 begins in Carbis Bay on Friday.
After the summit – which also includes leaders from Canada, Japan, France, Germany, and Italy – Mr Biden and the first lady will meet the Queen at Windsor Castle before the president heads to Belgium and then Switzerland.
Mr Johnson has said he wants to discuss the COVID-19 pandemic and urge other leaders to do more to vaccinate the rest of the world, but it is likely the growing Brexit trade row and its effect on the Northern Ireland peace process will also come up.
More on Joe Biden
COVID-19: America to give 500 million Pfizer coronavirus jabs to poorer countries

G7 summit: Flying insects ground White House press flight and swarm Joe Biden on tarmac

COVID, Moscow, climate and the 'special relationship' – all eyes are on Joe Biden's G7 performance

Donald Trump teases return to White House as he hits out at China and Anthony Fauci in campaign appearance

Queen to meet US President Joe Biden and First Lady Jill at Windsor Castle

COVID-19: Guns, beer and marijuana on offer for Americans in move to increase coronavirus vaccinations
Mr Biden's national security adviser Jake Sullivan has warned that the president has "very deep" concerns on the issue, adding that the post-Brexit Northern Ireland Protocol is "critical" to ensuring that the Good Friday Agreement is protected.
During Mr Biden's flight across the Atlantic, his press secretary Jen Psaki and Mr Sullivan told reporters what else is on Mr Biden's agenda:
• Boosting vaccine supply – the US announced on Wednesday evening that it would donate 500 million COVID-19 vaccines to poorer countries
• Following discussions about possible waivers of intellectual property laws allowing more vaccines to be produced around the world, Mr Sullivan said he does not anticipate contention but "convergence" on the issue
• Mr Sullivan said that moves to vaccinate poorer countries faster are "the right thing to do" and the smart thing to do in terms of stopping new variants of the virus. Mr Biden also wants to show that democracies can lead the fight
• Mr Biden will meet Russian president Vladimir Putin in Switzerland where he will discuss the rise in ransomware attacks that have been attributed to Russian hackers
• The conflict in Syria will be discussed, as will concerns about Russia's new nuclear systems
• Mr Biden and Mr Johnson are expected to refresh the post-war Atlantic Charter
Mr Biden and his wife Jill will spend eight days in Europe, a trip he has previously said is intended to show America's "renewed commitment to our allies and partners".
Please use Chrome browser for a more accessible video player