All the TV shows and films affected by the Hollywood writers' strike
The Hollywood writers' strike is marching into its second week and the production of a raft of TV shows has been put on ice as a result.
About 15,000 screenwriters who are members of the Writers Guild of America (WGA) have been on strike since 2 May.
The walkout started after six weeks of negotiations between studios and the writers failed to produce a new contract before the writers' last deal expired.
It is unclear how long this strike will last; the last WGA strike spanned 100 days and the longest strike on record, in 1988, lasted for 153.
With unionised screenwriters on picket lines rather than in writers' rooms, here are all the shows that could be affected.
The shows that have already fallen
Late night shows were the first to go dark, as they tend to be written on the day.
The Tonight Show Starring Jimmy Fallon, Late Night With Seth Meyers, The Late Show With Stephen Colbert, Jimmy Kimmel Live!, Last Week Tonight With John Oliver and Real Time With Bill Maher all went off air as soon as the strike started.
The strike has taken the "live" out of Saturday Night Live – NBC will air repeats until further notice, the network announced.
Streaming platform favourites
Production on season five of Stranger Things has paused, the show's creators Matt Duffer and Ross Duffer announced on Twitter.
"Writing does not stop when filming begins. While we're excited to start production with our amazing cast and crew, it is not possible during this strike," they wrote.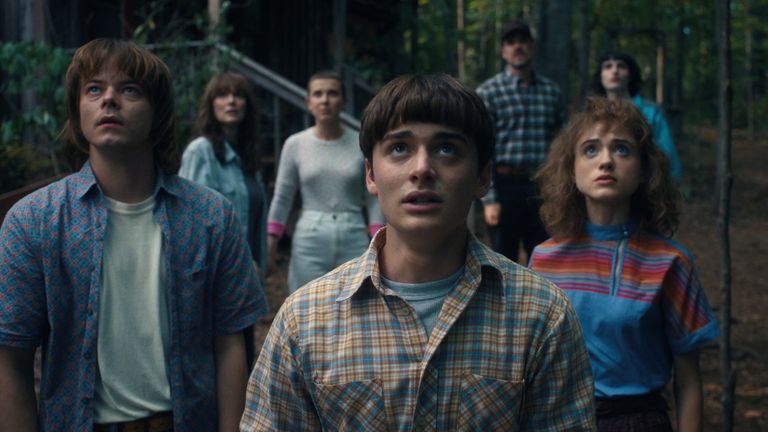 Filming of season three of HBO show Hacks has halted, with creator Jen Statsky saying there was "no other option".
"Writing happens at every stage of the process – production and post included. It's what makes shows and movies good," she wrote on Twitter.
Writing on season three of Yellowjackets was put on hold one day in, co-creator Ashley Lyle said. They will resume when WGA gets a "fair deal", she said.
Writers on season six of Cobra Kai are also on strike, with co-creator and writer Jon Hurwitz tweeting: "Pencils down in the Cobra Kai writers room. No writers on set."
Season two of The Last Of Us is on hold according to Variety, with the absence of writers affecting preparations for casting.
Writing on season six of The Handmaid's Tale has halted ahead of filming that was supposed to start in late summer.
Severance paused production on season two due to picketing.
Writing on season three of Emmy-winning Abbott Elementary was supposed to start the day after the strike started but has been paused.
Read more:

Jane Fonda reveals why she supports the writers' strike

All the winners from the TV BAFTAs
Please use Chrome browser for a more accessible video player
0:43
Jane Fonda on the writers' strikes
How will viewers be affected?
How much of an impact these halts to production will have will depend on how long the strikes last.
While fans of late night talk shows will already be missing their fix, it will take longer for the effects of the strike to be felt by viewers of narrative series and films.
Studios knew the end of the WGA contract was coming and so will have stockpiled episodes.
But if the strike drags on and production scheduling is delayed, viewers could see series premieres delayed and more re-runs.
Spreaker
Due to your consent preferences, you're not able to view this.
Open Privacy Options
Click to subscribe to Backstage wherever you get your podcasts
What is going ahead
Some shows are pushing ahead with production even without writers on set.
House Of The Dragon is shooting in the UK, with creator George RR Martin writing in a blog post that while he supports the strikes, the scripts for season two were finished "months ago".
"Every episode has gone through four or five drafts and numerous rounds of revisions, to address HBO notes, my notes, budget concerns, etc. There will be no further revisions," he wrote.
However the writers' room for another Game of Thrones prequel series, A Knight Of The Seven Kingdoms: The Hedge Knight, has "closed for the duration", he said.
Lord Of The Rings: The Rings Of Power will finish filming season two without showrunners on set.
Filming on the Disney+ Star Wars prequel Andor is going ahead, but creator Tony Gilroy has stepped away from all on-set duties amid the strike.
Films
Marvel has halted pre-production of its highly anticipated vampire thriller, Blade, starring Mahershala Ali.
It is the first big film to be impacted by the strike.
While it's common for writers on blockbusters to rework scripts on the fly, Marvel "has a more acute reputation for script pages flying off the typewriters during filming", according to the Hollywood Reporter.