90,000 greasy pennies dumped on man's drive as final payment after quitting his job
A man has accused his former employer of a "childish" move – after he received his final payment of $915 (£666) in pennies.
Andreas Flaten discovered the haul of 90,000 coins – which were covered in an oily, greasy substance – at the bottom of his driveway.
On top of the pile was his final payslip… along with an explicit parting message from the car workshop where he worked.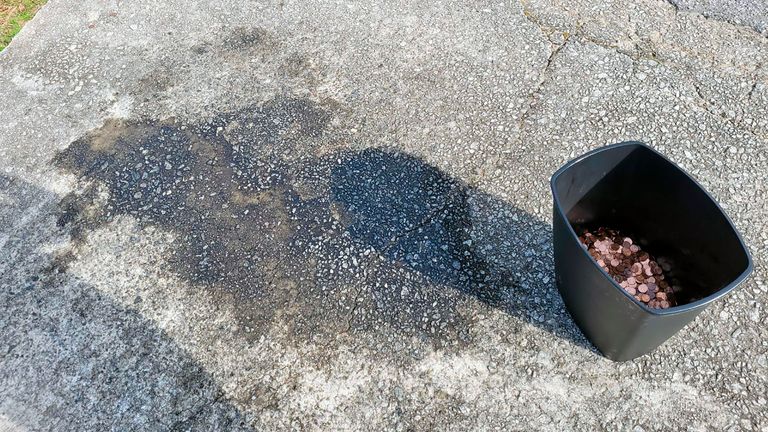 Mr Flaten left his job in November and claims he had encountered difficulty receiving the payment.
He now spends his nights gradually cleaning the pennies so he can cash them in – and it took him an hour-and-a-half to make a few hundred of the coins usable.
Miles Walker, who owns the workshop, told WGCL-TV that he didn't know if he had dropped the pennies outside Mr Flaten's house or not.
He said: "I don't really remember. It doesn't matter. He got paid, that's all that matters."
More from United States
Record $852m settlement reached with 700 women who accused university doctor of sexual abuse

COVID-19: Emergency Miami Beach spring break curfew imposed amid bar brawls as thousands gather

Vladimir Putin hits back at Joe Biden's 'killer' assessment

White supremacist groups 'most likely to carry out mass-casualty attacks' in US

Assistant principal accused of hacking student records to help daughter win homecoming queen at school prom

Shootings at Atlanta Asian massage parlours leave eight dead
The businessman then called Mr Flaten a "weenie".
Olivia Oxley, Mr Flaten's girlfriend, said she hopes the incident will highlight how people "are treated so poorly by their employers".
But she is looking on the bright side, saying: "With that many pennies, we're bound to find a few treasures. I've already found one from 1937.
"After the first shovel full, all we could do was laugh because this poor miserable man took so much time to be vindictive and cruel.
"We absolutely refused to let him ruin a single moment of ours."